Toyota Corolla Owners Manual: Parking brake
Operating instructions
1 To set the parking brake, fully pull the parking brake lever while depressing the brake pedal.
2 To release the parking brake, slightly raise the lever and lower it completely while pressing the button.
*1: For U.S.A.
*2: For Canada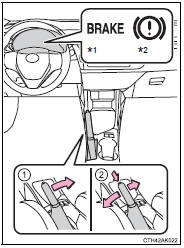 ■Parking brake engaged warning buzzer
A buzzer will sound if the vehicle is driven at a speed of approximately 3 mph (5 km/h) or more with the parking brake engaged.
■Usage in winter time
NOTICE
■Before driving
Fully release the parking brake.
Driving the vehicle with the parking brake set will lead to brake components overheating, which may affect braking performance and increase brake wear.