Toyota Corolla Repair Manual: Check dlc3
The vehicle's ecm uses the iso 9141–2 for communication protocol. The terminal arrangement of the dlc3 complies with sae j1962 and matches the iso 9141–2 format.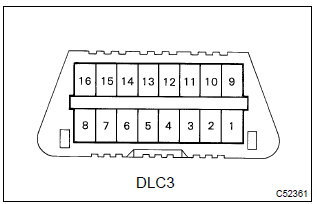 Hint
: if the display shows unable to connect to vehicle when you have connected the cable of the obd ii scan tool or the hand–held tester to the dlc3, turned the ignition switch on and operated the scan tool, there is a problem on the vehicle side or tool side.
If the communication is normal when the tool is connected to another vehicle, inspect the dlc3 on the original vehicle.
If the communication is still impossible when the tool is connected to another vehicle, the problem is probably in the tool itself, so consult the service department listed in the tool's instruction manual.
Inspect battery voltage
Battery voltage: 11 to 14 v
If voltage is below 11 v, recharge the battery before proceeding.
Check mil
The mil comes on when the ignition switch is turned on and the engine is not running.

Hint

: if the mil is not illuminated, troubleshoot the mil circuit .

when the engine is started, the mil should go off. If the mil remains on, it means that the diagnosis system has detected a malfunction or abnormality in the system.