Toyota Corolla Repair Manual: Sound quality is bad only when playing tape
Inspection procedure
1 Replace cassette tape with another and recheck
Replace the cassette tape with another and recheck.
Replace the faulty cassette tape with the normal one to see if the same trouble occurs again.

Standard: malfunction disappear.


2 Check for any foreign object
Check for foreign object.
Check that no foreign material and troubles are detected in the radio receiver assembly cassette tape player.


3 Clean head and check operation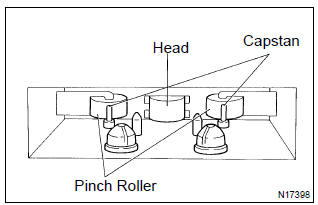 Head cleaning
raise the cassette door with your finger. Next, using a pencil or similar object, push in the guide.
Using a cleaning pen or cotton applicator soaked in cleaner, clean the head surface, pinch rollers and capstans.
Check that the same trouble occurs again.


Check and replace radio receiver assy