Toyota Corolla Owners Manual: Shift position uses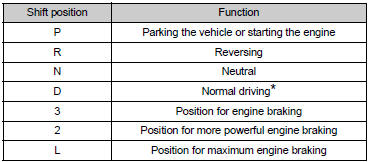 *: Shifting to the D position allows the system to select a gear suitable for driving conditions. Setting the shift lever to the D position is recommended for normal driving.
■Downshifting restrictions
The shift lever cannot be downshifted if the following speeds are exceeded.
mph (km/h)

■When driving with cruise control activated (if equipped)
Even when performing the following actions with the intent of enabling engine braking, engine braking will not activate while downshifting to 3 because cruise control will not be canceled.
■If the shift lever cannot be shifted from P
■AI-SHIFT

AI-SHIFT automatically selects the suitable gear according to driver performance and driving conditions.
AI-SHIFT automatically operates when the shift lever is in the D position.
CAUTION
■When driving on slippery road surfaces
Be careful of downshifting and sudden acceleration, as this could result in the vehicle skidding to the side or spinning.