Toyota Corolla Repair Manual: Precaution
Caution
: replace the faulty parts of the seat belt systems (outer belt, inner belt, bolts, nuts, adjustable shoulder anchor, tether anchor hardware, sill–bar, etc.).
Seat belt systems not in use at the time of a collision should also be inspected and replaced if found to be damaged or working improperly.
1. Running test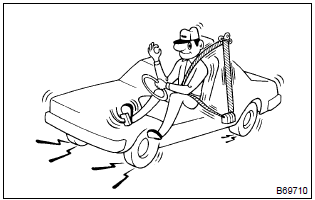 Fasten the front seat belts.
drive the vehicle at 16 km/h (10 mph) and slam on the brakes. Check that the belt locks and cannot be extended at this time.
Hint
: conduct this test in a safe area. If the belt does not lock, remove the belt assembly and perform the inspections. Also whenever installing a new belt assembly, verify the proper operation before installation.