Toyota Corolla Owners Manual: How to scroll

: Select to scroll to the next or previous page.

: If

appears to the right of titles, the complete titles are too long for the display. Select this button to scroll the title.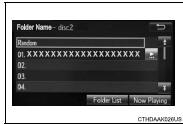 Turn the "TUNE/SCROLL" knob to move the cursor box to select a desired item from the list, and press the "TUNE/SCROLL" knob to play it. The track that is being played is highlighted.
To return to the top screen, select "Now Playing" on the list screen.