Toyota Corolla Owners Manual: Basic Audio Operations
Basic audio operations and functions common to each mode are explained in this section.
Operating the multimedia system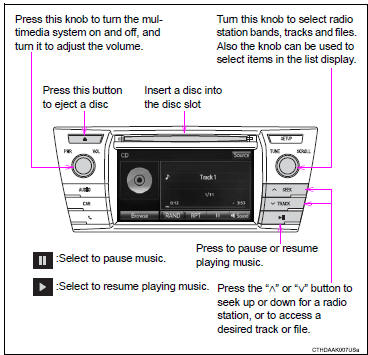 Random playback
Select

to change on/off.
Repeat play
Select

to change on/off.
■Using cellular phones
Interference may be heard through the multimedia system's speakers if a cellular phone is being used inside or close to the vehicle while the multimedia system is operating.
CAUTION
■Laser produc
t This product is a class 1 laser product.
Do not open the cover of the player or attempt to repair the unit yourself.
Refer servicing to qualified personnel.
●Laser products • Do not take this unit apart or attempt to make any changes yourself. This is an intricate unit that uses a laser pickup to retrieve information from the surface of compact discs. The laser is carefully shielded so that its rays remain inside the cabinet. Therefore, never try to disassemble the player or alter any of its parts since you may be exposed to laser rays and dangerous voltages.
• This product utilizes a laser.
Use of controls or adjustments or performance of procedures other than those specified herein may result in hazardous radiation exposure.
THE USE OF OPTICAL INSTRUMENTS WITH THIS PRODUCT WILL INCREASE EYE HAZARD.
NOTICE
■To prevent battery discharge
Do not leave the multimedia system on longer than necessary when the engine is off.
■To avoid damaging the multimedia system
Take care not to spill drinks or other fluids on the multimedia system.