Toyota Corolla Owners Manual: Screen for general settings
1 Press the "SETUP" button.
2 Select "General" on the "Setup" screen.
1 "English", "Français" or "Español" can be selected.
2 On/off can be selected to sound beeps.
3 Select to change the screen color.
4 Select to change the keyboard layout.
5 The animation effect for the screen can be set to on/off.
6 Select to delete personal data 7 Select to update program versions. For details, contact your Toyota dealer.
8 Select to display the software information. Notices related to third party software used in this product are enlisted. (This includes instructions for obtaining such software, where applicable.)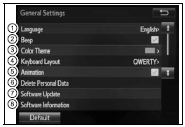 ■To return to the default volume settings
Select "Default", and then "Yes".