Toyota Corolla Repair Manual: Replacement
Hint
: components:
1. Precaution
2. Disconnect battery negative terminal
3. Remove horn button assy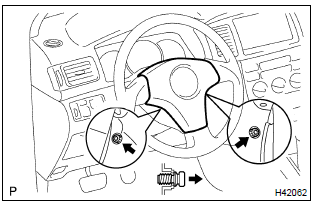 Place the front wheels facing straight ahead.
using a torx socket wrench (t30), loosen the 2 torx screws until the groove along the screw circumference catches on the screw case.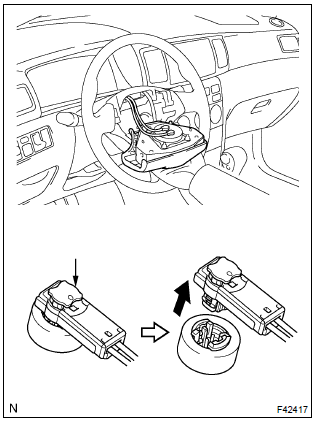 Pull out the horn button assy from the steering wheel assy.
using a screwdriver, release the lock part of each airbag connector and disconnect the 2 airbag connectors.
4. Inspect horn button assy
5. Install horn button assy
connect the airbag connectors and horn connector.
install the horn button assy after confirming that the circumference groove of the torx screws is caught on the screw case.
using a torx socket wrench (t 30), install the 2 screws.

Torque: 8.8 Nvm (90 kgfvcm, 78 in.Vlbf)
6. Inspect srs warning light