Toyota Corolla Owners Manual: Outside temperature display
The temperature display shows temperatures within the range of -40°F (-40°C) to 122°F (50°C).
► Type A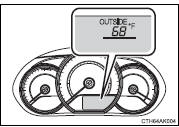 ► Type B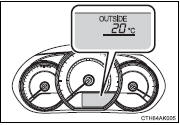 ► Type C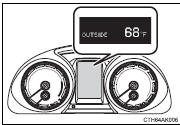 ► Type D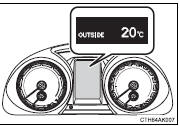 ■The outside temperature is displayed when
►Vehicles without a smart key system The engine switch is in the "ON" position.
►Vehicles with a smart key system The engine switch is in IGNITION ON mode.
■Display

In the following situations, the correct outside temperature may not be displayed, or the display may take longer than normal to change.
●When the vehicle is stopped, or moving at low speeds (less than 9 mph [15 km/h]).
●When the outside temperature has changed suddenly (at the entrance/exit of a garage, tunnel, etc.) ■When "--°F" is displayed
The system may be malfunctioning. Take your vehicle to your Toyota dealer.