Toyota Corolla Repair Manual: Inspection procedure
1 Input signal check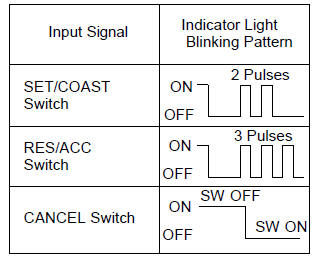 See input signal check on page 05–745.
check the indicator light operation when each of the set/ coast, resume/accel and cancel is turned on.

Ok: set/coast, resume/accel switch: the signals shown in the table on the left should be output when each switch is on. The signal should disappear when the switch is turned off.

Cancel switch: the indicator light goes off when the cancel switch is turned on.


2 Inspect terminal voltage(ccs)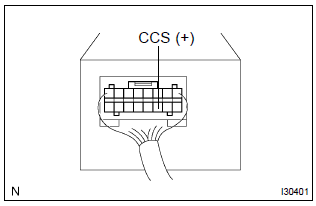 Remove the cruise control ecu assy with the connector being connected.
turn the ignition switch to on.
measure the voltage between terminals 11 (ccs) of the cruise control ecu assy connector and the body ground when each control switch is operated.

Ok:



3 Inspect cruise control main switch assy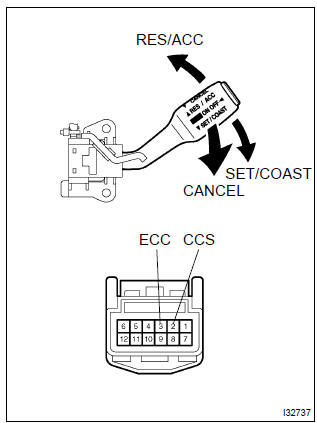 Remove the steering wheel center pad .
disconnect the control switch assy connector.
check continuity between terminals 2 (ccs) and 3 (ecc) of control switch assy connector when cruise control main switch assy is held on and off.

Ok:



4 Check harness and connector(between cruise control main switch assy and body ground)
Check for open and short circuit in harness and connector between cruise control main switch assy and body ground


5 Check harness and connector(between cruise control ecu assy and cruise control main switch assy)
Check for open and short circuit in harness and connector between cruise control ecu assy and cruise control main switch assy


6 Input signal check(see step 1)


Check and replace cruise control ecu assy