Toyota Corolla Repair Manual: Circuit description
The crankshaft position sensor (ne signal) consists of a magnet, iron core and pickup coil.
The ne signal plate (crankshaft position sensor plate) has 34 teeth and is installed on the crankshaft. The ne signal sensor generates 34 signals for each engine revolution. This sensor monitors a plate (timing rotor) located on the crankshaft timing pulley and is used by the ecm to detect crankshaft angle and engine speed (rpm/ne). As the crankshaft timing pulley rotates through an engine revolution, this sensor communicates the rotation of the ne signal plate as a pulse signal to the ecm. Based on the signal, the ecm controls fuel injection time and ignition timing.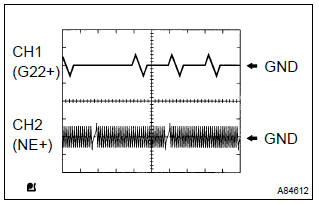 Reference: inspection using the oscilloscope.
Hint
: the correct waveform is as shown on the left.

Monitor description
If there is no signal from the crankshaft sensor despite the engine revolving, the ecm interprets this as a malfunction of the sensor.
Monitor strategy

Typical enabling conditions

Typical malfunction thresholds

Wiring diagram