Toyota Corolla Repair Manual: Circuit description
Refer to dtc p0130
Dtc no

Dtc detection condition

Trouble area

P0136
The following condition (a) or (b) continues for 300 seconds or more:

During driving with the engine warmed up, heated oxygen sensor o tp t does not change output change.
heated oxygen sensor output is very low most of the time.

Open or short in heated oxygen sensor (bank 1 sensor 2) circuit
Heated oxygen sensor (bank 1 sensor 2)
Heated o gen sensor heater (bank 1 sensor 2)
Efi relay
Hint
: sensor 2 refers to the sensor farthest away from the engine assembly.
Monitor description
The heated oxygen sensor generates waveform of a voltage between 0 v and 1 v in response to the oxygen concentration in the exhaust gases. When the output voltage of the heated oxygen sensor is 0.5 V or more, the ecm judges that the air–fuel ratio is rich. When it is 0.40 V or less, the ecm judges that the air–fuel ratio is lean.
If the rear heated oxygen sensor output dose not change between rich and lean during "stop and go" driving, the ecm interprets this as a malfunction in the rear heated oxygen sensor and sets a dtc. Also, if the sensor output remains at less than 0.05 V for more than 156 seconds when ecm monitored the heated oxygen sensor for 260 seconds while the air fuel feedback is being performed (the detecting condition differs depending on the type of vehicles), the ecm will interpret this as a fault. In either case, the ecm will turn on the mil and set a dtc.
Monitor strategy

Typical enabling conditions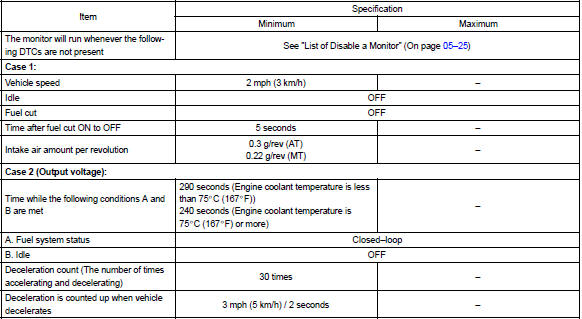 Typical malfunction thresholds

Component operating range

Monitor result (mode 06 data)

Refer to page 05–27 for detailed information on checking monitor status.
Wiring diagram
Refer to dtc p0130
Confirmation driving pattern

Connect the hand–held tester to the dlc3.
switch the hand–held tester from the normal mode to the check mode .
start the engine and let it idle for 60 seconds or more.
drive the vehicle at 25 mph (40 km/h) or more for 40 seconds or more.
let the engine idle for 10 seconds or more.
perform steps (d) and (e) 12 times.
Hint
: if a malfunction exists, the mil will be illuminated on the multi information display during step (f).
Notice
: if the conditions in this test are not strictly followed, a malfunction detection will not occur. If you do not have a hand–held tester, turn the ignition switch off after performing steps from (c) to (f), then perform steps from (c) to (f) again.