Toyota Corolla Repair Manual: Replacement
1. Drain engine oil
remove the oil pan drain plug and drain the engine oil.
2. Removal & installation chain sub–assy
3. Remove chain vibration damper no.1
remove 2 bolts and chain vibration damper no. 1.
4. Remove oil pump assy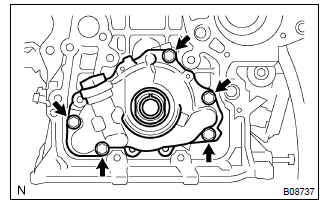 Remove the 5 bolts.
remove the oil pump assy and gasket.
5. Install oil pump assy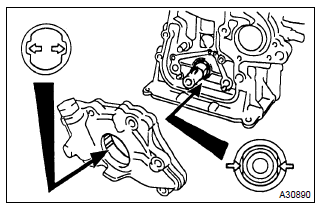 Place a new gasket on the cylinder block.
engage the spline teeth of the oil pump drive rotor with the large teeth of the crankshaft, and side the oil pump.
install the oil pump with the 5 bolts.

Torque: 9.0 Nvm (92 Kgf·cm, 80 in.Vlbf)
6. Install chain vibration damper no.
1
install the chain vibration damper no. 1 With 2 bolts.

Torque: 9.0 Nvm (92 Kgf·cm, 8.0 In.Vlbf)
7. Install oil pan drain plug
clean and install the oil pan drain plug with a new gasket.

Torque: 37 nvm (377 Kgf·cm, 27 ft·lbf)
8. Add engine oil
Capacity:
drain and refill w/ oil filter change 3.7 Liters (3.9 Us qts, 3.3 Lmp. Qts) drain and refill w/o oil filter change 3.5 Liters (3.7 Us qts, 3.1 Lmp. Qts) dry fill 4.2 Liters (4.4 Us qts, 3.7 Lmp. Qts)
9. Add coolant(seepage 16–7)
10. Inspect oil leak
11. Inspect check engine coolant leak