Toyota Corolla Owners Manual: Air conditioning filter
The air conditioning filter must be changed regularly to maintain air conditioning efficiency.
Removal method
1Turn the engine switch off.
2 Open the glove box. Slide off the damper.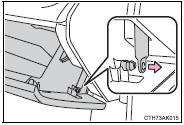 3 Push in the glove box on the vehicle's outer side to disconnect the claws. Then pull out the glove box and disconnect the lower claws.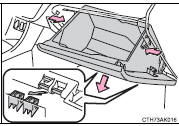 4 Remove the filter cover.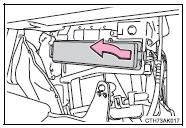 ■ Replacement method
Remove the air conditioning filter and replace it with a new one.
The "↑UP" marks shown on the filter should be pointing up.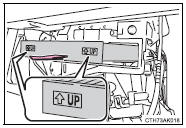 ■Checking interval
Inspect and replace the air conditioning filter according to the maintenance schedule. In dusty areas or areas with heavy traffic flow, early replacement may be required. (For scheduled maintenance information, please refer to the "Schedule maintenance guide" or "Owner's Manual Supplement".) ■If air flow from the vents decreases dramatica
lly The filter may be clogged. Check the filter and replace if necessary.
NOTICE
■When using the air conditioning system
Make sure that a filter is always installed.
Using the air conditioning system without a filter may cause damage to the system.