Toyota Corolla Repair Manual: Circuit description
The camshaft position sensor (g22+ signal) consists of a magnet, iron core and pickup coil.
The g22+ signal plate has 3 teeth on its outer circumference and is installed on the camshaft timing pulley.
When the camshafts rotate, the protrusion on the signal plate and the air gap on the pickup coil changes, causing fluctuations in the magnetic field and generating an electromotive force in the pickup coil.
The ne+ signal plate (crankshaft timing pulley) has 34 teeth and is installed to the crankshaft. The ne+ signal sensor generates 34 signals at every engine revolution. The ecm detects the crankshaft angle and the engine revolution based on the ne+ signals, and the cylinder and the angle of the vvt based on the combination of the g22+ and ne+ signals.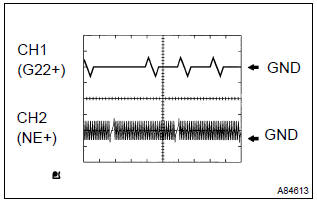 Reference: inspection using the oscilloscope.
Hint
: the correct waveform is as shown on the left.

Monitor description
If there is no signal from the camshaft position sensor despite the engine revolving, or if the rotation of the camshaft and the crankshaft is not synchronized, the ecm interprets this as a malfunction of the sensor.
Monitor strategy

Typical enabling conditions

Typical malfunction thresholds

Component operating range

Wiring diagram
Refer to dtc p0335
Dtc p0340 camshaft position sensor "a" circuit (bank 1 or single sensor) Dtc p0341 camshaft position sensor "a" circuit range/performance (bank 1 or single sensor) ...
Hint: read freeze frame data using the hand-held tester or the obd ii scan tool. Freeze frame data records the engine conditions when a malfunction is detected. When troubleshooting, it is usefu ...
Other materials:
Overhaul
1. Remove w/head taper screw plug no.2 Using a socket hexagon wench 10, remove the taper screw plug and gasket. 2. Remove valve lifter Remove the valve lifters from the cylinder head. 3. Remove valve Place the cylinder head on wooden blocks. using sst, compres ...
Using automatic mode
1 Press . The dehumidification function begins to operate. Air outlets and fan speed are automatically adjusted according to the temperature setting. 2 Adjust the temperature setting. 3 To stop the operation, press again. ■ If the system is operated manually in automatic mode If the fa ...
Problem symptoms table
Hint: if a normal code is displayed during the dtc check but the trouble still occurs, check the circuits for each symptom in the order given in the charts on the following pages and proceed to the page given for troubleshooting. The matrix chart is divided into 3 chapters. If the instruc ...
© 2011-2019 Copyright www.tcorolla.net