Toyota Corolla Repair Manual: Circuit description
The camshaft position sensor (g22+ signal) consists of a magnet, iron core and pickup coil.
The g22+ signal plate has 3 teeth on its outer circumference and is installed on the camshaft timing pulley.
When the camshafts rotate, the protrusion on the signal plate and the air gap on the pickup coil changes, causing fluctuations in the magnetic field and generating an electromotive force in the pickup coil.
The ne+ signal plate (crankshaft timing pulley) has 34 teeth and is installed to the crankshaft. The ne+ signal sensor generates 34 signals at every engine revolution. The ecm detects the crankshaft angle and the engine revolution based on the ne+ signals, and the cylinder and the angle of the vvt based on the combination of the g22+ and ne+ signals.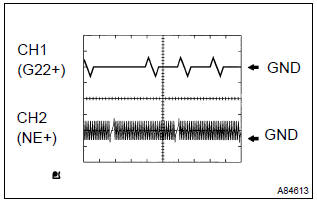 Reference: inspection using the oscilloscope.
Hint
: the correct waveform is as shown on the left.

Monitor description
If there is no signal from the camshaft position sensor despite the engine revolving, or if the rotation of the camshaft and the crankshaft is not synchronized, the ecm interprets this as a malfunction of the sensor.
Monitor strategy

Typical enabling conditions

Typical malfunction thresholds

Component operating range

Wiring diagram
Refer to dtc p0335
Dtc p0340 camshaft position sensor "a" circuit (bank 1 or single sensor) Dtc p0341 camshaft position sensor "a" circuit range/performance (bank 1 or single sensor) ...
Hint: read freeze frame data using the hand-held tester or the obd ii scan tool. Freeze frame data records the engine conditions when a malfunction is detected. When troubleshooting, it is usefu ...
Other materials:
Diagnostic trouble code chart
Hint: when the srs warning light remains lit up and the dtc is the normal code, this means a voltage source drops. This malfunction is not stored in memory by the airbag sensor assy center and if the power source voltage returns to normal, the srs warning light will autom ...
Other functions
■ Switching between outside air and recirculated air modes Press . The mode switches between outside air mode (indicator off) and recirculated air mode (indicator on) each time is pressed. ■ Defogging the windshield Defoggers are used to defog the windshield and front side w ...
Replacement
1. Work for preventing gasoline from spilling out 2. Remove front wheels 3. Remove engine under cover rh 4. Remove engine under cover lh 5. Drain coolant 6. Remove cylinder head cover no.2 Remove the 2 nuts, 2 clips and cylinder head cover. 7. Disconnect radiator hose inlet &nb ...
© 2011-2019 Copyright www.tcorolla.net