Toyota Corolla Repair Manual: Speedometer sensor (atm)
Replacement
1. Remove air cleaner case
2. Remove air cleaner hose no.1
3. Remove speedometer sensor
disconnect the connector.
remove the bolt and speedometer sensor assembly.
remove the clip and driven gear from the speedometer sensor.
4. Install speedometer sensor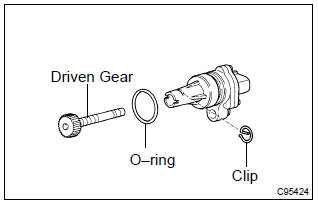 Coat a o–ring with atf and install it to the speedometer sensor.
install the driven gear to the speedometer sensor with the clip.
install the speedometer sensor assembly with the bolt.

Torque: 11.3 N·m (115 kgf·cm, 9 ft·lbf)

connect the connector.
5. Install air cleaner hose no.1
6. Install air cleaner case
torque: 7.0 Nvm (71 Kgf·cm, 62 in.Vlbf)
Inspection 1. Inspect torque converter clutch assy Inspect the one–way clutch. Set sst into the inner race of the one–way clutch. Sst 09350–32014 (09351–32010) set sst s ...
Replacement 1. Remove engine under cover lh 2. Drain automatic transaxle fluid remove the drain plug, gasket and drain atf. install a new gasket and drain plug. Torque: 17.5 Nvm ...
Other materials:
Pre–check
1. Selecting compass display mode the compass switch allows you to select the display or non–display mode of the compass. 2. Setting zone deviation between the "magnetic north" and "actual north" differs depending on the location. Therefore, adjustment of the magnetism ...
Starting & charging
Preparation Sst Recomended tools Equipment ...
Automatic transaxle fluid (atm)
On–vehicle inspection 1. Check the fluid level Hint: drive the vehicle so that the engine and transaxle are at normal operating temperature. Fluid temperature: 70 – 80 °c (158 – 176 °f) park the vehicle on a level surface and set the parking brake. with the engine idling ...
© 2011-2020 Copyright www.tcorolla.net