Toyota Corolla Repair Manual: Inspection procedure
Hint
: read freeze frame data using the hand-held tester or the obd ii scan tool. Freeze frame data records the engine conditions when a malfunction is detected. When troubleshooting, it is useful for determining whether the vehicle was running or stopped, the engine was warmed up or not, the air–fuel ratio was lean or rich, etc. At the time of the malfunction.
1 Inspect camshaft position sensor(resistance)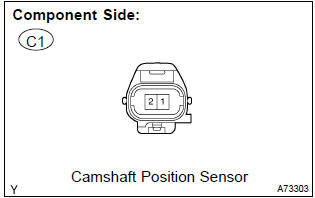 Measure the resistance between the terminals of camshaft position sensor connector.
Standard:

Notice
: "cold" and "hot" shown above mean the temperature of the coils themselves. "Cold" is from –10 c (14 f) to 50 c (122 f) and "hot" is from 50 c (122 f) to 100 c (212 f).


2 Check harness and connector(camshaft position sensor – ecm)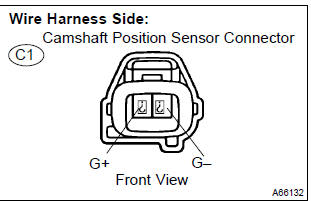 Disconnect the c1 camshaft position sensor connector.
disconnect the e3 ecm connector.
check the resistance between the wire harness side connectors.
Standard (check for open):

Standard (check for short):

Reconnect the ecm connector.
reconnect the camshaft position sensor connector.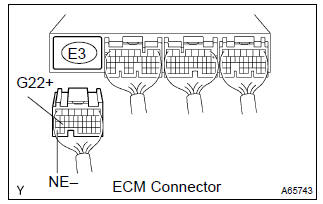 3 Check sensor installation(camshaft position sensor)
Check the camshaft position sensor installation.


4 Check camshaft timing gear assy(teeth of plate)
Check the teeth of the signal plate.


Replace ecm
The camshaft position sensor (g22+ signal) consists of a magnet, iron core and pickup coil. The g22+ signal plate has 3 teeth on its outer circumference and is installed on the camshaft timing ...
Dtc p0351 ignition coil "a" primary/secondary circu Dtc p0352 ignition coil "b" primary/secondary circuit Dtc p0353 ignition coil "c" primary/secondary circuit Dtc p0354 ignition coil "d" primar ...
Other materials:
Playing an audio CD and MP3/WMA/AAC discs (Multimedia system)
CD player operation Insert disc or select "CD" on the audio source selection screen with a disc inserted to begin listening to a CD. Audio control screen Pressing the "AUDIO" button displays the audio control screen from any screens of the selected source. 1 Audio source selection screen app ...
Engine rear oil seal
Replacement 1. Remove manual transaxle assy (m/t transaxle) 2. Remove automatic transaxle assy (a/t transaxle) 3. Remove clutch cover assy (m/t transaxle) remove the 6 bolts and clutch cover. 4. Remove clutch disc assy (m/t transaxle) 5. Remove flywheel sub–assy (m/t transaxle) ...
Evap monitor (vacuum pressure monitor)
Notice: a cold soak must be performed prior to conducting the drive pattern to complete the internal pressure readiness monitor. Cold soak preconditions The monitor will not run unless: mil is off. Fuel level is approximately 1/2 to 3/4. Altitude is 7800 feet (2400 m) or less. ...
© 2011-2020 Copyright www.tcorolla.net