Toyota Corolla Repair Manual: Thermostat
Replacement
1. Remove engine under cover rh
2. Drain coolant
3. Remove fan and generator v belt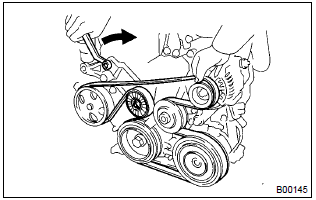 4. Remove generator assy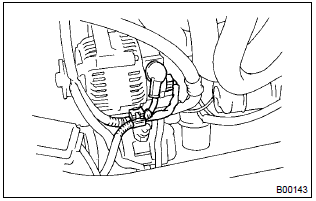 Disconnect the wire clamp from the wire clip on the rectifire end frame.
remove the rubber cap and nut, and disconnect the alternator wire.
disconnect the alternator connector.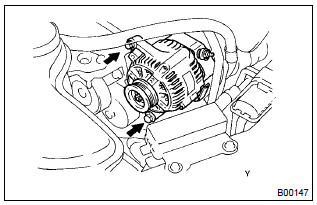 Remove the 2 bolts and alternator.
5. Remove water inlet
6. Remove thermostat
7. Install thermostat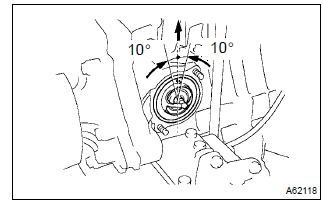 Install a new gasket to the thermostat.
install the thermostat with the jiggle valve upward as shown in the illustration.
8. Install water inlet
Torque: 11 nvm (113 Kgf·cm, 8 ft·lbf)
9. Install generator assy
Torque:
12mm head 25 nvm (250 Kgf·cm, 18 ft·lbf) 14mm head 54 nvm (550 Kgf·cm, 39 in.Vlbf)
10. Add coolant
11. Check engine coolant leak
1. Inspect water pump assy Visually check the drain hole for coolant leakage. ...
Replacement 1. Drain coolant 2. Separate radiator hose inlet 3. Separate radiator hose outlet 4. Separate oil cooler inlet tube no.1 5. Separate oil cooler outlet tube no.1 6. Remove radiator as ...
Other materials:
Capacity and distribution
Cargo capacity depends on the total weight of the occupants. (Cargo capacity) = (Total load capacity) — (Total weight of occupants) Steps for Determining Correct Load Limit — (1) Locate the statement "The combined weight of occupants and cargo should never exceed XXX kg or XXX lbs." on your veh ...
On–vehicle inspection
1. Inspect refrigerant pressure with manifold gauge set this is a method in witch the trouble is located by using a manifold gauge set. Read the manifold gauge pressure when the these conditions are established. Test conditions: temperature at the air inlet with the switch set ...
Front wheel alignment
Adjustment 1. Inspect tire 2. Measure vehicle height Vehicle height: Measuring points: a: ground clearance of front wheel center b: ground clearance of lower suspension arm front bolt center c: ground clearance of axle beam set bolt center d: ground clearance of rear wheel center Not ...
© 2011-2020 Copyright www.tcorolla.net