Toyota Corolla Owners Manual: Seat heaters
Press the switch.
1 High temperature
2 Low temperature
The indicator light comes on when the switch is on.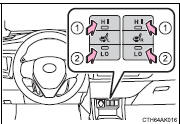 ■The seat heaters can be used when
► Vehicles without a smart key system The engine switch is in the "ON" position.
►Vehicles with a smart key system The engine switch is in IGNITION ON mode.
■When not in use
Put the switch in the neutral position. The indicator will turn off.
CAUTION
■Burns
●Use caution when seating the following persons in a seat with the seat heater on to avoid the possibility of burns:
• Babies, small children, the elderly, the sick and the physically challenged • Persons with sensitive skin • Persons who are fatigued • Persons who have taken alcohol or drugs that induce sleep (sleeping drugs, cold remedies, etc.)
●Do not cover the seat with anything when using the seat heater.
Using the seat heater with a blanket or cushion increases the temperature of the seat and may lead to overheating.
●Do not use seat heater more than necessary. Doing so may cause minor burns or overheating.
NOTICE
■To prevent seat heater damage
Do not put heavy objects that have an uneven surface on the seat and do not stick sharp objects (needles, nails, etc.) into the seat.
■To prevent battery discharge
Turn the seat heaters off when the engine is not running.
The direction display deviates from the true direction determined by the earth's magnetic field. The amount of deviation varies according to the geographic position of the vehicle. If you cross o ...
Other materials:
Inspection procedure
1 Input signal check See input signal check on page 05–745. check the indicator light operation when each of the set/ coast, resume/accel and cancel is turned on. Ok: set/coast, resume/accel switch: the signals shown in the table on the left should be output when each switch is o ...
Check dlc3
The vehicle's ecm uses the iso 9141–2 for communication protocol. The terminal arrangement of the dlc3 complies with sae j1962 and matches the iso 9141–2 format. Hint: if the display shows unable to connect to vehicle when you have connected the cable of the obd ii scan tool or the hand–he ...
Standard bolt
How to determine bolt strength Specified torque for standard bolts How to determine nut strength *: Nut with 1 or more marks on one side surface of the nut. Hint: use the nut with the same number of the nut strength classification or the greater than the bolt strength classificati ...
© 2011-2021 Copyright www.tcorolla.net