Toyota Corolla Repair Manual: Replacement
1. Drain engine oil
remove the oil pan drain plug and drain the engine oil.
2. Removal & installation chain sub–assy
3. Remove chain vibration damper no.1
remove 2 bolts and chain vibration damper no. 1.
4. Remove oil pump assy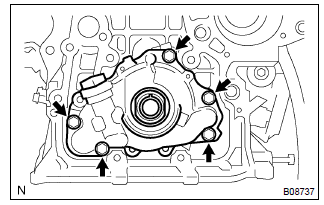 Remove the 5 bolts.
remove the oil pump assy and gasket.
5. Install oil pump assy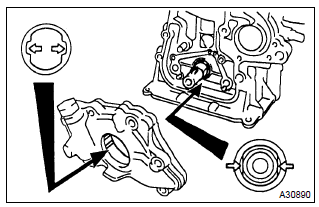 Place a new gasket on the cylinder block.
engage the spline teeth of the oil pump drive rotor with the large teeth of the crankshaft, and side the oil pump.
install the oil pump with the 5 bolts.

Torque: 9.0 Nvm (92 Kgf·cm, 80 in.Vlbf)
6. Install chain vibration damper no.
1
install the chain vibration damper no. 1 With 2 bolts.

Torque: 9.0 Nvm (92 Kgf·cm, 8.0 In.Vlbf)
7. Install oil pan drain plug
clean and install the oil pan drain plug with a new gasket.

Torque: 37 nvm (377 Kgf·cm, 27 ft·lbf)
8. Add engine oil
Capacity:
drain and refill w/ oil filter change 3.7 Liters (3.9 Us qts, 3.3 Lmp. Qts) drain and refill w/o oil filter change 3.5 Liters (3.7 Us qts, 3.1 Lmp. Qts) dry fill 4.2 Liters (4.4 Us qts, 3.7 Lmp. Qts)
9. Add coolant(seepage 16–7)
10. Inspect oil leak
11. Inspect check engine coolant leak
1. Remove oil pump relief valve Remove the oil pump relief valve plug, oil pump relief valve spring and oil pump relief valve. Oil pump relief valve plug oil pump relief ...
Other materials:
Precaution
1. Check that the battery cables are connected to the correct terminals. 2. Disconnect the battery cables when the battery is given a quick charge. 3. Do not perform tests with a high voltage insulation resistance tester. 4. Never disconnect the battery while the engine is running. 5. Check that ...
Removal and installation of fuel control parts
Place for removing and installing of fuel system parts work in a place with good air ventilation and without anything flammable such as welder, grinder, drill, electric motor or stove in the surroundings. Never work in a place such as a pit or nearby a pit, as there is a ...
Front seats
Adjustment procedure ► Manual seat 1 Seat position adjustment lever 2 Seatback angle adjustment lever 3 Vertical height adjustment lever (driver's side only) ► Power seat (driver's side only) 1 Seat position adjustment switch 2 Seatback angle adjustment switch 3 Seat cushion ...
© 2011-2020 Copyright www.tcorolla.net