Toyota Corolla Repair Manual: Replacement
1. Drain engine oil
remove the oil pan drain plug and drain the engine oil.
2. Removal & installation chain sub–assy
3. Remove chain vibration damper no.1
remove 2 bolts and chain vibration damper no. 1.
4. Remove oil pump assy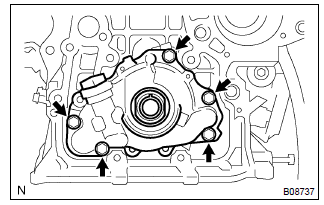 Remove the 5 bolts.
remove the oil pump assy and gasket.
5. Install oil pump assy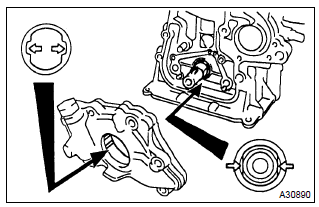 Place a new gasket on the cylinder block.
engage the spline teeth of the oil pump drive rotor with the large teeth of the crankshaft, and side the oil pump.
install the oil pump with the 5 bolts.

Torque: 9.0 Nvm (92 Kgf·cm, 80 in.Vlbf)
6. Install chain vibration damper no.
1
install the chain vibration damper no. 1 With 2 bolts.

Torque: 9.0 Nvm (92 Kgf·cm, 8.0 In.Vlbf)
7. Install oil pan drain plug
clean and install the oil pan drain plug with a new gasket.

Torque: 37 nvm (377 Kgf·cm, 27 ft·lbf)
8. Add engine oil
Capacity:
drain and refill w/ oil filter change 3.7 Liters (3.9 Us qts, 3.3 Lmp. Qts) drain and refill w/o oil filter change 3.5 Liters (3.7 Us qts, 3.1 Lmp. Qts) dry fill 4.2 Liters (4.4 Us qts, 3.7 Lmp. Qts)
9. Add coolant(seepage 16–7)
10. Inspect oil leak
11. Inspect check engine coolant leak
1. Remove oil pump relief valve Remove the oil pump relief valve plug, oil pump relief valve spring and oil pump relief valve. Oil pump relief valve plug oil pump relief ...
Other materials:
Inspection procedure
1 Check fuse(ecu–ig) Remove the ecu–ig fuse from the instrument panel j/b. check the continuity of the ecu–ig fuse. Ok: continuity 2 Inspect terminal voltage(b) Remove the cruise control ecu assy with connector still connected. turn the ignition switch to on. ...
Customer problem analysis
Hint: in troubleshooting, the problem symptoms must be confirmed accurately, meaning that all preconceptions must be set aside in order to make an accurate judgement. To ascertain what the problem symptoms are, it is extremely important to ask the customer about the problem and cond ...
Inspection procedure
1 Check side squib(lh) circuit(airbag sensor assy center – front seat airbag assy lh) Disconnect the negative (–) terminal cable from the battery, and wait at least for 90 seconds. disconnect the connectors between the airbag sensor assy center and the front seat airbag assy (lh ...
© 2011-2019 Copyright www.tcorolla.net