Toyota Corolla Repair Manual: Lubrication system
On–vehicle inspection
1. Check engine oil level
after warming up the engine and then 5 minutes after the engine stops, oil level should be between the "l" and "f" marks on the oil level gage.
If low, check for leakage and add oil up to the "f" mark.
Notice
: do not fill with engine oil above the "f" mark.
2. Check engine oil quality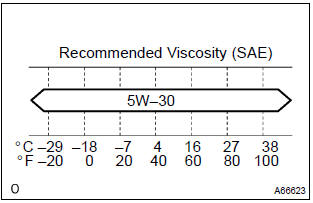 Check the oil for deterioration, entry of water, discoloring or thinning.
If the quality is visibly poor, replace the oil.
Oil grade: use api grade sl "energy–conserving", or ilsac multigrade engine oil.
Sae 5w–30 is the best choice for good fuel economy, and good starting in cold weather.
If sae 5w–30 is not available, sae 10w–30 may be used.
However, it should be replaced with sae 5w–30 at the next oil replacement.
3. Inspect oil pressure
disconnect the oil pressure switch connector.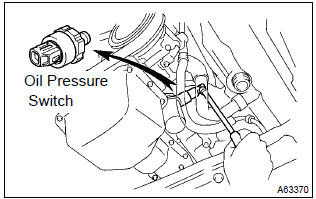 Using a 24 mm deep socket wrench, remove the oil pressure switch.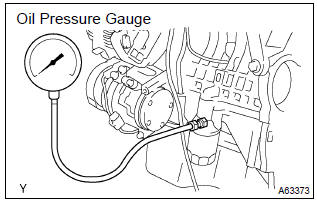 Install the oil pressure gauge.
warm up the engine.
inspect the oil pressure.
Oil pressure: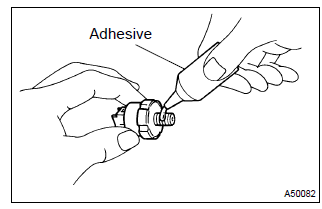 Apply adhesive to 2 or 3 threads of the oil pressure switch.

Adhesive:
part no. 08833–00080, Three bond 1344, loctite 242 or equivalent

using a 24 mm deep socket wrench, install the oil pressure switch.

Torque: 15 nvm (153 Kgf·cm, 11 ft·lbf)

connect the oil pressure switch connector.
check for the engine oil leaks.
Other materials:
Bluetooth® Audio
Operating a Bluetooth® enabled portable player 1 Power 2 Volume 3 Select an album, fast-forward or reverse 4 Repeat play 5 Random playback 6 Selecting an item 7 Displays text message 8 Playback 9 Playback/pause 10 Search playback 11 Select a track Selecting an album Press ( ) or ( ...
Initialization
1. Reset memory Caution: perform the reset memory (at initialization) when replacing the automatic transaxle assy, engine assy or ecm. Notice: hand–held tester only Turn the ignition switch off. connect the hand–held tester to the dlc3. turn the ignition switch to the on ...
Malfunction in speedometer
Wiring diagram Inspection procedure 1 Check combination meter assy Remove the combination meter assy with connector still connected. check voltage. Jack up either of the front wheels. Shift the shift lever to neutral. Turn the ignition switch to on ...
© 2011-2020 Copyright www.tcorolla.net