Toyota Corolla Repair Manual: Lubrication system
On–vehicle inspection
1. Check engine oil level
after warming up the engine and then 5 minutes after the engine stops, oil level should be between the "l" and "f" marks on the oil level gage.
If low, check for leakage and add oil up to the "f" mark.
Notice
: do not fill with engine oil above the "f" mark.
2. Check engine oil quality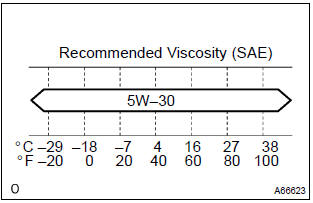 Check the oil for deterioration, entry of water, discoloring or thinning.
If the quality is visibly poor, replace the oil.
Oil grade: use api grade sl "energy–conserving", or ilsac multigrade engine oil.
Sae 5w–30 is the best choice for good fuel economy, and good starting in cold weather.
If sae 5w–30 is not available, sae 10w–30 may be used.
However, it should be replaced with sae 5w–30 at the next oil replacement.
3. Inspect oil pressure
disconnect the oil pressure switch connector.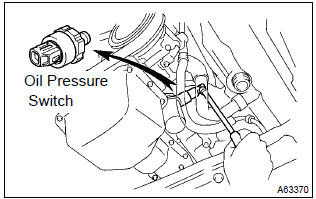 Using a 24 mm deep socket wrench, remove the oil pressure switch.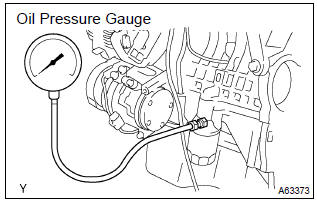 Install the oil pressure gauge.
warm up the engine.
inspect the oil pressure.
Oil pressure: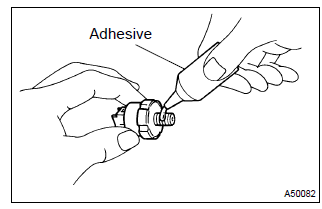 Apply adhesive to 2 or 3 threads of the oil pressure switch.

Adhesive:
part no. 08833–00080, Three bond 1344, loctite 242 or equivalent

using a 24 mm deep socket wrench, install the oil pressure switch.

Torque: 15 nvm (153 Kgf·cm, 11 ft·lbf)

connect the oil pressure switch connector.
check for the engine oil leaks.
Other materials:
Inspection procedure
Hint: if different dtcs related to different systems that have terminal e2 as the ground terminal are output simultaneously, terminal e2 may be open. Read freeze frame data using the hand-held tester or the obd ii scan tool. Freeze frame data records the engine conditions when a malf ...
Problem symptoms table
Hint: if a normal code is displayed during the dtc check but the trouble still occurs, check the circuits for each symptom in the order given in the charts on the following pages and proceed to the page given for troubleshooting. The matrix chart is divided into 3 chapters. If the instruc ...
Rear suspension
Service data Torque specification Tire&wheel Service data Drive shaft / propeller shaft / axle Service data Torque specification ...
© 2011-2019 Copyright www.tcorolla.net