Toyota Corolla Repair Manual: How to proceed with troubleshooting
Troubleshoot in accordance with the procedure on the following pages.
1 Vehicle brought to workshop

2 Customer problem analysis check and symptom check
Without applicable symptoms, proceed to "a".
with applicable symptoms, proceed to "b".


3 Symptom simulation

4 Problem symptoms table
Without applicable symptoms, proceed to "a".
with applicable symptoms, proceed to "b".


5 Circuit inspection and part inspection

6 Perform troubleshooting in the following method, depending on malfunction symptom
Terminals of ecu (seepage 05–703)
on–vehicle inspection
7 Adjustment, repair or replacement

8 Confirmation test

End
Customer problem analysis check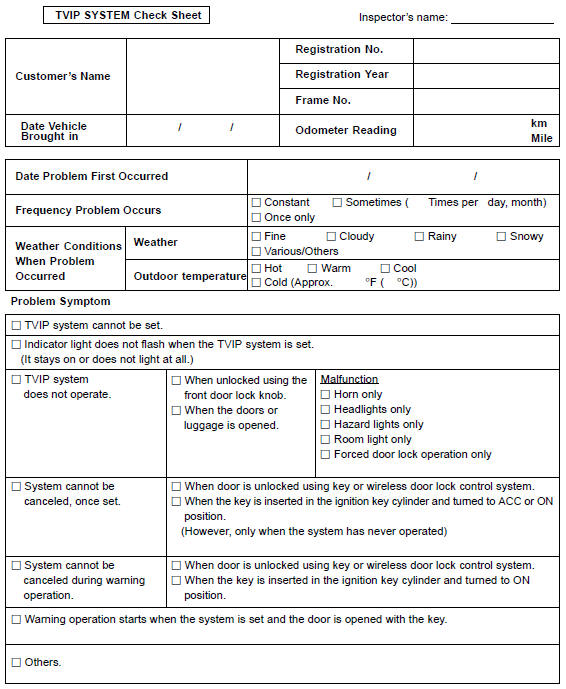 Location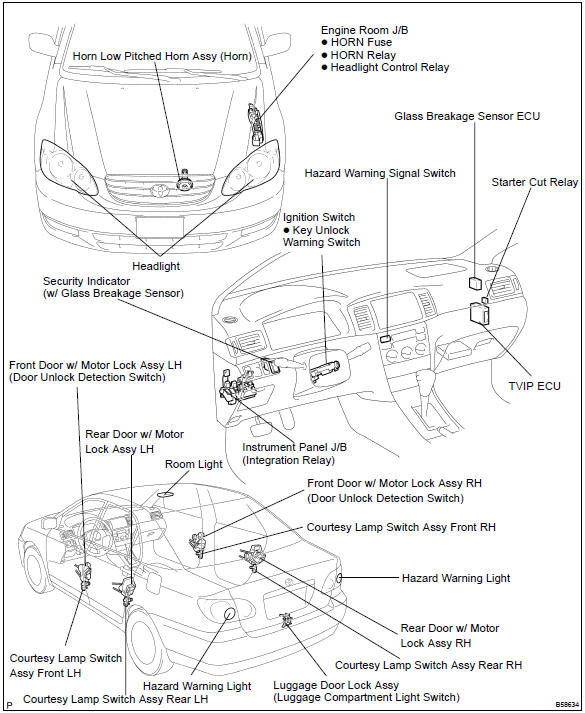 1. Inspect tvip ecu Inspect the ecu–b, dome and ecu–ig fuses. disconnect the tvip ecu connector, and the continuity and voltage of check each terminal of the disconnected connector. ...
Other materials:
Electronic control
Removal and installation of battery terminal before performing electrical work, disconnect the battery negative (–) terminal cable beforehand so as to prevent burnt–out damage by short. When disconnecting and installing the terminal cable, turn the ignition switch and li ...
Circuit description
Refer to dtc c0200/31, c0205/32, c1235/35, c1236/36 Hint: Dtc no. C0210/33, c1238/38 is for the right rear speed sensor. Dtc no. C0215/34, c1239/39 is for the left rear speed sensor. Wiring diagram ...
Circuit description
In the diagram below, when the engine is cranked, current flows from terminal st2 of the ignition switch to the starter relay coil and also current flows to terminal sta of the ecm (sta signal). When the sta signal and ne signal are input to the ecm, tr is turned on, current flows to the c ...
© 2011-2020 Copyright www.tcorolla.net