Toyota Corolla Repair Manual: Circuit description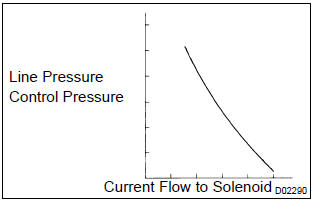 The throttle pressure that is applied to the primary regulator valve (which modulates the line pressure) causes the solenoid valve slt, under electronic control, to precisely and minutely modulate and generate the line pressure according the extent of the accelerator pedal depressed or the output of engine power.
This controls the line pressure and provides smooth shifting.
Upon receiving a signal of the throttle valve opening angle, the ecm controls the line pressure by sending a predetermined (*) duty ratio to the solenoid valve, modulating the line pressure and generating throttle pressure.
(*): Duty ratio the duty ratio is the ratio of the period of continuity in one cycle.
For example, if a is the period of continuity in one cycle, and b is the period of non–continuity, then duty ratio=a/(a+b) x 100 (%)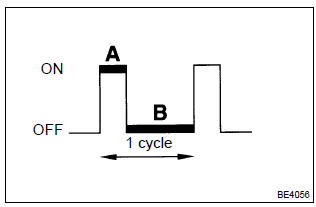 Monitor description
The linear solenoid valve (slt) controls the transmission line pressure for smooth transmission operation based on signals from the throttle position sensor and the vehicle speed sensor. The ecm adjusts the duty cycle of the slt solenoid valve to control hydraulic line pressure coming from the primary regulator valve.
Appropriate line pressure assures smooth shifting with varying engine outputs. When an open or short in the linear solenoid valve (slt) circuit is detected, the ecm interprets this as a fault. The ecm will turn on the mil.
Monitor strategy

Typical enabling condition

Typical malfunction thresholds

Component operating range

Wiring diagram

Dtc p2716 pressure control solenoid "d" electrical (shift solenoid slt) ...
1 Inspect transmission wire(slt) Disconnect the transmission wire connector from the transaxle. measure the resistance according to the value(s) in the table below. Standard: Me ...
Other materials:
Overhaul
Hint: components: 1. Drain manual transaxle oil (m/t transaxle) torque: 39.2 Nvm (400 Kgf·cm, 29 ft·lbf) 2. Drain automatic transaxle fluid (a/t transaxle) torque: 17.5 Nvm (178 Kgf·cm, 13 ft·lbf) 3. Remove front wheel 4. Remove engine under cover lh 5. Remove front axle hub lh nut U ...
Inspection procedure
1 Check p/t squib(lh) circuit(airbag sensor assy center – front seat outer belt assy lh) Disconnect the negative (–) terminal cable from the battery, and wait at least for 90 seconds. disconnect the connectors between the airbag sensor assy center and the seat belt pretensioner ...
Front seats
Adjustment procedure ► Manual seat 1 Seat position adjustment lever 2 Seatback angle adjustment lever 3 Vertical height adjustment lever (driver's side only) ► Power seat (driver's side only) 1 Seat position adjustment switch 2 Seatback angle adjustment switch 3 Seat cushion ...
© 2011-2019 Copyright www.tcorolla.net