Toyota Corolla Repair Manual: Circuit description
Shifting from 1st to o/d is performed in combination with on and off of the shift solenoid valve s1 and s2 controlled by ecm. If an open or short circuit occurs in either of the solenoid valves, the ecm controls the remaining normal solenoid valve to allow the vehicle to be operated smoothly (fail safe function).
Fail safe function: if either of the solenoid valve circuits develops an open or short, the ecm turns the other solenoid valve on and off to shift to the gear positions shown in the table below. If both solenoids malfunction, hydraulic control cannot be performed electronically and must be done manually.
Manual shifting as shown in the above table must be done (in the case of a short circuit, the ecm stops sending current to the short circuited solenoid).

X: malfunctions

Monitor description
The ecm commands gearshift by turning the shift solenoid valves "on/off". When there is an open or short circuit in any shift solenoid valve circuit, the ecm detects the problem and the mil comes on. Illuminating the mil, the ecm performs the fail–safe and turns the other shift solenoid valves in good condition "on/off" (in case of an open or short circuit, the ecm stops sending current to the circuit.).
Monitor strategy

Typical enabling condition

Typical malfunction thresholds

Component operating range

Wiring diagram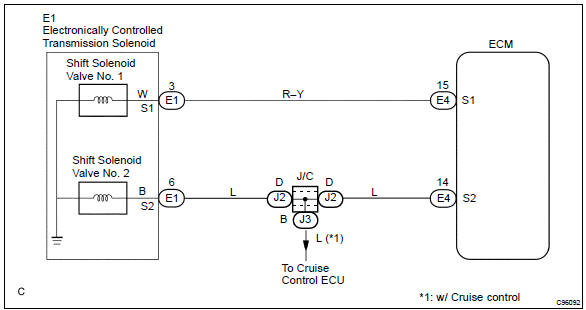 Dtc p0973 shift solenoid "a" control circuit low (shift solenoid valve s1) Dtc p0974 shift solenoid "a" control circuit high (shift solenoid valve s1) ...
1 Inspect transmission wire(s1) Disconnect the transmission wire connector from the transaxle. measure the resistance according to the value(s) in the table below. Standard: ...
Other materials:
Air outlets
■ Location of air outlets The air outlets and air volume changes according to the selected airflow mode. : Some models ■ Adjusting the position of and opening and closing the air outlets ► Front center outlets Direct air flow to the left or right, up or down. ► Fron ...
Removal & installation and disassembly & reassembly
1. Remove oxygen sensor Remove a clip and tear off the floor mat. disconnect a oxygen sensor connector. Remove the oxygen sensor. 2. Remove tail pipe assy Remove 2 bolts, 2 springs and tail pipe assy. 3. Remove floor panel brace front Remove 2 nuts and the ...
Cassette tape cannot be ejected
Wiring diagram Wiring diagram 1 Check if radio auto–search functions properly Check if the radio auto–search function properly. Perform the auto–research of the radio and check that the operation is normal. Standard: malfunction disappear. 2 Press "eject" and check oper ...
© 2011-2020 Copyright www.tcorolla.net