Toyota Corolla Repair Manual: Circuit description
Shifting from 1st to o/d is performed in combination with on and off of the shift solenoid valve s1 and s2 controlled by ecm. If an open or short circuit occurs in either of the solenoid valves, the ecm controls the remaining normal solenoid valve to allow the vehicle to be operated smoothly (fail safe function).
Fail safe function: if either of the solenoid valve circuits develops an open or short, the ecm turns the other solenoid valve on and off to shift to the gear positions shown in the table below. If both solenoids malfunction, hydraulic control cannot be performed electronically and must be done manually.
Manual shifting as shown in the above table must be done (in the case of a short circuit, the ecm stops sending current to the short circuited solenoid).

X: malfunctions

Monitor description
The ecm commands gearshift by turning the shift solenoid valves "on/off". When there is an open or short circuit in any shift solenoid valve circuit, the ecm detects the problem and the mil comes on. Illuminating the mil, the ecm performs the fail–safe and turns the other shift solenoid valves in good condition "on/off" (in case of an open or short circuit, the ecm stops sending current to the circuit.).
Monitor strategy

Typical enabling condition

Typical malfunction thresholds

Component operating range

Wiring diagram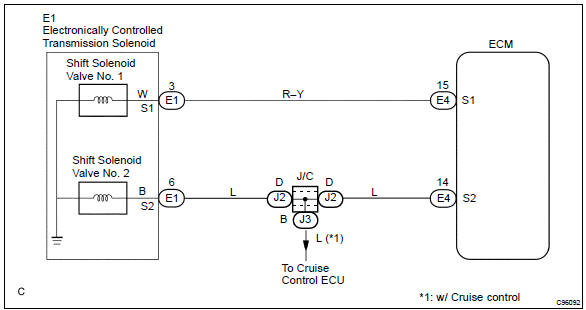 Dtc p0973 shift solenoid "a" control circuit low (shift solenoid valve s1) Dtc p0974 shift solenoid "a" control circuit high (shift solenoid valve s1) ...
1 Inspect transmission wire(s1) Disconnect the transmission wire connector from the transaxle. measure the resistance according to the value(s) in the table below. Standard: ...
Other materials:
Taking out the spare tire
1 Remove the luggage floor cover. 2 Remove the tool tray. 3 Loosen the center fastener that secures the spare tire. CAUTION ■When storing the spare tire Be careful not to catch fingers or other body parts between the spare tire and the body of the vehicle. ...
Foamed material application areas
If an increase in temperature or other condition damages the foamed material when repairing or replacing the panel, fill in the insufficient areas with urethane foam. The following illustration shows the areas for one side, but the foamed material must be applied equally to both the left and r ...
Windshield/windowglass/mirror
Preparation Recomended tools Equipment Ssm ...
© 2011-2020 Copyright www.tcorolla.net