Toyota Corolla Repair Manual: Circuit description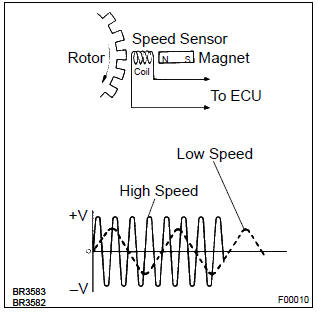 The speed sensor detects wheel speed and transmits the appropriate signals to the ecu. These signals are used for control of the abs control system. Each of the front and rear rotors has 48 serrations.
When the rotors rotate, the magnetic field generated by the permanent magnet in the speed sensor induces an ac voltage.
Since the frequency of this ac voltage changes in direct proportion to the speed of the rotor, the frequency is used by the ecu to detect the speed of each wheel.

Hint
: Dtc no. C0200/31 and c1235/35 is the right front speed sensor.
Dtc no. C0205/32 and c1236/36 is the left front speed sensor.
Wiring diagram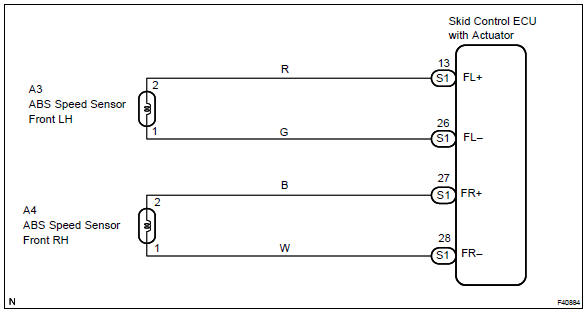 Dtc c0200/31 right front speed sensor circuit Dtc c0205/32 left front speed sensor circuit Dtc c1235/35 foreign matter is attached on tip of right front sensor Dtc c1236/36 foreign matter is attac ...
Hint: start the inspection from step 1 in case of using the hand–held tester and start from step 2 in case of not using the hand–held tester. 1 Read value of hand–held tester(front speed sensor) ...
Other materials:
Circuit description
A thermistor is built in the engine coolant temperature sensor and changes the resistance value according to the engine coolant temperature. The structure of the sensor and connection to the ecm is the same as those of the intake air temperature sensor. Hint: if the ecm detects the dtc ...
Monitor description
Dtc p0451, p0452 or p0453 is recorded by the ecm when the vapor pressure sensor malfunctions. P0451 The ecm senses pressure in the fuel tank using the vapor pressure sensor. The ecm supplies the sensor with a regulated 5 v reference–voltage and the sensor returns a signal voltage between ...
Source voltage drop
The srs is equipped with a voltage–increase circuit (dc–dc converter) in the airbag sensor assy center in case the source voltage drops. When the battery voltage drops, the voltage–increase circuit (dc–dc converter) functions to increase the voltage of the srs to normal voltage. The diag ...
© 2011-2020 Copyright www.tcorolla.net