Toyota Corolla Repair Manual: Circuit description
The crankshaft position sensor (ne signal) consists of a magnet, iron core and pickup coil.
The ne signal plate (crankshaft position sensor plate) has 34 teeth and is installed on the crankshaft. The ne signal sensor generates 34 signals for each engine revolution. This sensor monitors a plate (timing rotor) located on the crankshaft timing pulley and is used by the ecm to detect crankshaft angle and engine speed (rpm/ne). As the crankshaft timing pulley rotates through an engine revolution, this sensor communicates the rotation of the ne signal plate as a pulse signal to the ecm. Based on the signal, the ecm controls fuel injection time and ignition timing.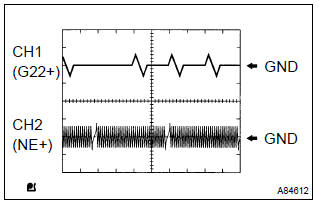 Reference: inspection using the oscilloscope.
Hint
: the correct waveform is as shown on the left.

Monitor description
If there is no signal from the crankshaft sensor despite the engine revolving, the ecm interprets this as a malfunction of the sensor.
Monitor strategy

Typical enabling conditions

Typical malfunction thresholds

Wiring diagram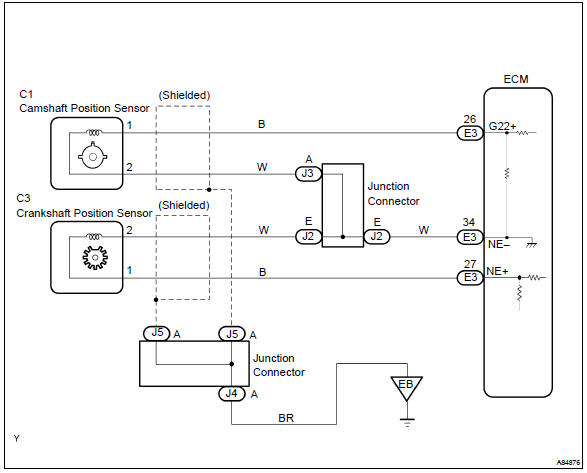 Dtc p0335 crankshaft position sensor "a" circuit Dtc p0339 crankshaft position sensor "a" circuit intermittent ...
Hint: perform the troubleshooting of dtc p0335 first. If no trouble is found, troubleshoot the engine mechanical systems. Read freeze frame data using the hand-held tester or the obd ii sca ...
Other materials:
Circuit description
The vapor pressure sensor and the vsv for the canister closed valve (ccv) are used to detect abnormalities in the evaporative emission control system. The ecm decides whether there is an abnormality in the evaporative emission control system based on the vapor pressure sensor signal. Dtc p0 ...
Circuit description
Refer to dtc p0120 Dtc no. Dtc detection condition Trouble area P0121 The following condition is met 4 times. After the vehicle speed has exceeded 19 mph (30 km/h) once, the throttle position sensor output value is out of normal range when the throttle ...
Replacement
1. Remove engine under cover rh 2. Drain coolant 3. Remove front wheel rh 4. Remove cylinder head cover no.2 Remove the 2 nuts, 2 clips and cylinder head cover. 5. Remove fan and generator v belt Turn the v–ribbed belt tensioner slowly clockwise and loosen it. Then, remove t ...
© 2011-2019 Copyright www.tcorolla.net