Toyota Corolla Repair Manual: Circuit description
The crankshaft position sensor (ne signal) consists of a magnet, iron core and pickup coil.
The ne signal plate (crankshaft position sensor plate) has 34 teeth and is installed on the crankshaft. The ne signal sensor generates 34 signals for each engine revolution. This sensor monitors a plate (timing rotor) located on the crankshaft timing pulley and is used by the ecm to detect crankshaft angle and engine speed (rpm/ne). As the crankshaft timing pulley rotates through an engine revolution, this sensor communicates the rotation of the ne signal plate as a pulse signal to the ecm. Based on the signal, the ecm controls fuel injection time and ignition timing.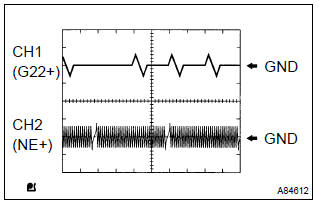 Reference: inspection using the oscilloscope.
Hint
: the correct waveform is as shown on the left.

Monitor description
If there is no signal from the crankshaft sensor despite the engine revolving, the ecm interprets this as a malfunction of the sensor.
Monitor strategy

Typical enabling conditions

Typical malfunction thresholds

Wiring diagram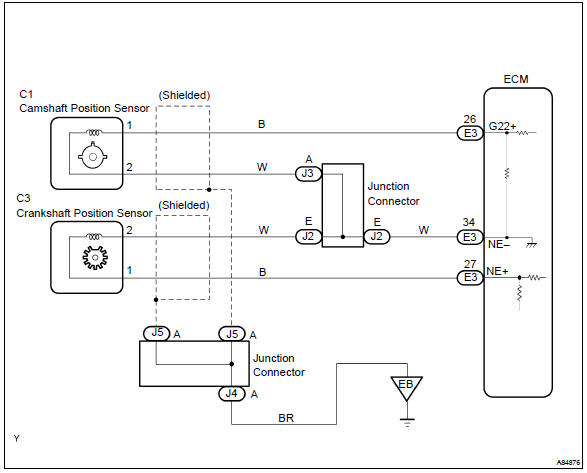 Dtc p0335 crankshaft position sensor "a" circuit Dtc p0339 crankshaft position sensor "a" circuit intermittent ...
Hint: perform the troubleshooting of dtc p0335 first. If no trouble is found, troubleshoot the engine mechanical systems. Read freeze frame data using the hand-held tester or the obd ii sca ...
Other materials:
Have the malfunction repaired immediately. (vehicles with a smart key system)
After taking the specified steps to correct the suspected problem, check that the warning message and light go off. ■Warning buzzer ...
Circuit description
A thermistor is built in the engine coolant temperature sensor and changes the resistance value according to the engine coolant temperature. The structure of the sensor and connection to the ecm is the same as those of the intake air temperature sensor. Hint: if the ecm detects the dtc ...
How to proceed with troubleshooting
1 Vehicle brought to workshop 2 Customer problem analysis 3 Check and clear dtc 4 Problem symptom confirmation Symptom does not occur (go to step 5) 5 Symptom simulation 6 Dtc check 7 Dtc chart 8 Problem symptoms table 9 Circuit inspection 10 Confirmation test End ...
© 2011-2019 Copyright www.tcorolla.net