Toyota Corolla Repair Manual: Circuit description
Refer to dtc p0130
Dtc no.

Dtc detection condition

Trouble area

P0133
After engine has been warmed up, if response time that heated oxygen sensor's output voltage reaches from rich to lean.

Or from lean to rich, is 0.6 Second or more during idling.

(2 Trip detection logic)

Open or short in heated oxygen sensor (bank 1 sensor 1) circuit
heated oxygen sensor (bank 1 sensor 1)
heated oxygen sensor heater (bank 1 sensor 1)
efi relay
Air induction system
Fuel pressure
injector
ecm

If response time of heated oxygen sensor's output voltage in one rich–lean cycle is 6 seconds or more during idling. (2 Trip detection logic)
Hint
: sensor 1 refers to the sensor closest to the engine assembly.
Monitor description

The engine control module (ecm) uses the heated oxygen sensor information to regulate the air–fuel ratio close to a stoichiometric ratio. This maximizes the catalytic converter's ability to purify the exhaust gases.
The sensor detects oxygen levels in the exhaust gas and sends this signal to the ecm.
The inner surface of the sensor element is exposed to the outside air. The outer surface of the sensor element is exposed to the exhaust gas. The sensor element is made of the platinum coated zirconia and includes an integrated heating element. The heated oxygen sensor has the characteristic whereby its output voltage change suddenly in the vicinity of the stoichiometric air–fuel ratio. The heated oxygen sensor generates waveform of a voltage between 0 v and 1 v in response to the oxygen concentration in exhaust gas.
When the output voltage of the heated oxygen sensor is 0.55 V or more, the ecm judges that the air–fuel ratio is rich. When it is 0.40 V or less, the ecm judges that the air–fuel ratio is lean.
The ecm monitors the response feature of the heated oxygen sensor. If the response time of the sensor output status change from rich to lean or vice versa becomes longer, the ecm interprets this as a malfunction in the heated oxygen sensor and sets a dtc.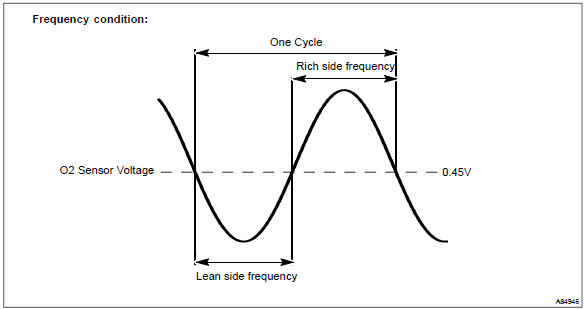 Monitor strategy

Typical enabling condition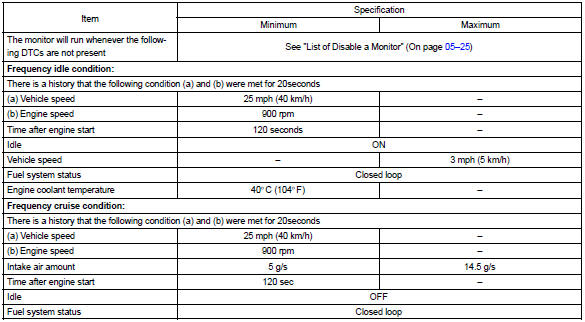 Typical malfunction thresholds

Component operating range

Wiring diagram
Refer to dtc p0130
Dtc p0133 oxygen sensor circuit slow response (bank 1 sensor 1) ...
Hint: hand–held tester only: narrowing down the trouble area is possible by performing "a/f control" active test (heated oxygen sensor or other trouble areas can be distinguished). Perform active ...
Other materials:
Removal and installation of engine intake parts
If any metal tip is mixed in the inlet pass, this may give a bad effect to the engine and turbocharger. when removing and installing the inlet system parts, close the opening of the removed inlet system parts and the engine with a clean shop rag or gummed tape. when inst ...
Removal & installation and disassembly & reassembly
1. Remove oxygen sensor Remove a clip and tear off the floor mat. disconnect a oxygen sensor connector. Remove the oxygen sensor. 2. Remove tail pipe assy Remove 2 bolts, 2 springs and tail pipe assy. 3. Remove floor panel brace front Remove 2 nuts and the ...
Problem symptoms table
Hint: use the table below to help determine the cause of the problem. The numbers indicate the priority of the likely cause of the problem. Check each part in order. If necessary, replace these parts. 1. Headlamp and tail lamp 2. Front fog lamp system 3. Turn signal and hazard warni ...
© 2011-2019 Copyright www.tcorolla.net