Toyota Corolla Repair Manual: Circuit description
The variable valve timing (vvt) system includes the ecm, the oil control valve (ocv) and the vvt controller.
The ecm sends a target "duty–cycle" control signal to the ocv. This control signal, applied to the ocv, regulates the oil pressure supplied to the vvt controller. Camshaft timing control is performed based on engine operation conditions such as the intake air volume, throttle position and engine coolant temperature.
The ecm controls the ocv, based on the signals output from the sensors. The vvt controller regulates the intake camshaft angle using oil pressure through the ocv. As result, the relative position between the camshaft and the crankshaft is optimized, and the engine torque improves, fuel economy improves, and exhaust emissions decrease under overall driving conditions. Also, the ecm detects the actual valve timing using signals from the camshaft position sensor and the crankshaft position sensor, and performs the feedback control. This is how target valve timing is verified by the ecm.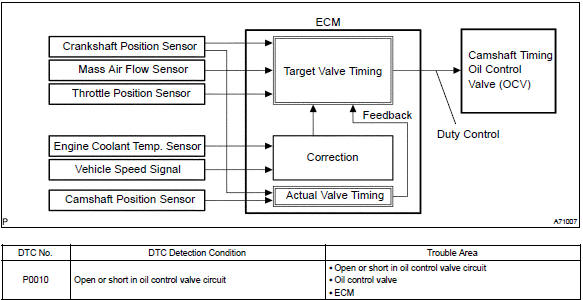 Monitor description
After the ecm sends the "target" duty–cycle signal to the ocv, the ecm monitors the ocv current to establish an "actual" duty–cycle. The ecm detects a malfunction and sets a dtc when the actual duty–cycle ratio varies from the target duty–cycle ratio.
Monitor strategy

Typical enabling conditions

Typical malfunction thresholds

Component operating ra

Wiring diagram

Dtc p0010 camshaft position "a" actuator circuit (bank 1) ...
Hint: read freeze frame data using the hand–held tester or the obd ii scan tool. Freeze frame data records the engine conditions when a malfunction is detected. When troubleshooting, it is usefu ...
Other materials:
Operating the touch screen
By touching the screen with your finger, you can control the multimedia system, etc. ■ Drag* Touch the screen with your finger, and move the screen to the desired position. ● Scrolling the lists ● Using scroll bar in lists ■ Flick* Touch the screen with your finger an ...
Other functions
■ Switching between outside air and recirculated air modes Press . The mode switches between outside air mode (indicator off) and recirculated air mode (indicator on) each time is pressed. ■ Defogging the windshield Defoggers are used to defog the windshield and front side w ...
Circuit description
The shift solenoid valve sl is turned "on" and "off" by signals from the ecm in order to control the hydraulic pressure operation, the lock–up relay valve, which then the controls operation of the lock–up clutch. Fail safe function: if the ecm detects a malfunction, it turns the shift solen ...
© 2011-2019 Copyright www.tcorolla.net