Toyota Corolla Repair Manual: Replacement
1. Drain brake fluid
Notice
: wash the brake fluid off immediately if it comes into contact with any painted surface.
2. Remove front wheel rh
3. Remove front fender liner rh
4. Remove brake actuator with bracket
turn the latch of the actuator connector to disconnect the connector.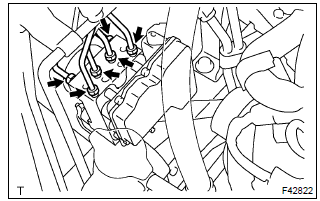 Using sst, disconnect the 6 brake tubes from the brake actuator.

Sst 09023–00100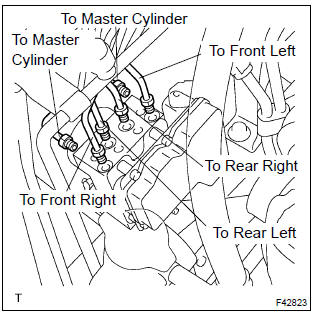 Attach tags or make a memo to identify the place to reconnect.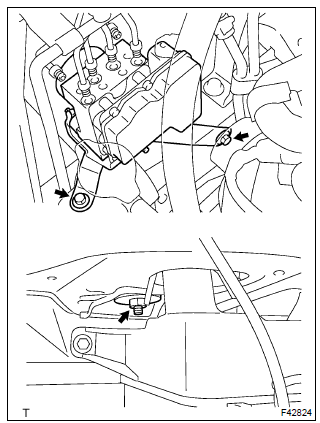 Remove the nut, 2 bolts and brake actuator with bracket.
5. Remove brake actuator assy
remove the 3 nuts and brake actuator from bracket.
6. Install brake actuator assy
install the brake actuator with the 3 nuts to the bracket.

Torque: 4.7 Nvm (48 Kgf·cm, 42 in.Vlbf)
7. Install brake actuator with bracket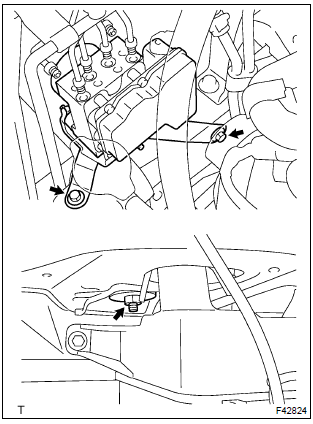 Install the brake actuator with bracket with the nut and 2 bolts.

Torque: 19 nvm (194 Kgf·cm, 14 ft·lbf)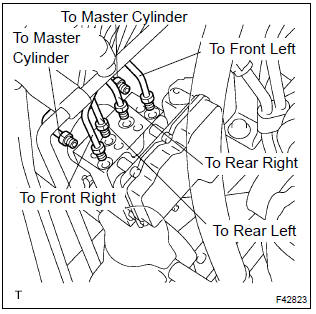 Using sst, connect the 6 brake tubes to the correct position of brake actuator, as shown in the illustration.

Sst 09023–00100
torque: 15.2 Nvm (155 Kgf·cm, 11 ft·lbf)

connect the brake actuator connector.
8. Install front fender liner rh
9. Install front wheel rh
torque: 103 nvm (1,050 Kgf·cm, 76 ft·lbf)
10. Fill reservoir with brake fluid
11. Bleed master cylinder
sst 09023–00100
12. Bleed brake line
13. Check fluid level in reservoir
14. Check brake fluid leakage
15. Check brake actuator with hand–held tester
1. Connect hand–held tester: connect the hand–held tester to the dlc3. start the engine and run it at idle. select the active test mode on the hand–held tester. Hint: ple ...
Replacement Hint: replace the rh side by the same procedure as the lh side. 1. Remove front wheel 2. Remove front fender liner lh 3. Remove speed sensor front lh Disconnect the speed sens ...
Other materials:
Replacement
Hint: installation is according to the reverse order of the removal. 1. Remove fr wiper arm rh 2. Remove fr wiper arm lh 3. Remove hood to cowl top seal 4. Remove cowl top ventilator louver lh 5. Remove cowl top ventilator louver rh 6. Remove front door weatherstrip rh 7. Remove front ...
Rear wheel alignment
Inspection 1. Inspect tire 2. Measure vehicle height Notice: before inspecting the wheel alignment, adjust the vehicle height to the specified value. 3. Inspect toe–in Toe–in: usa, canada: Mexico: If the toe–in is not within the specified value, inspect and replace the suspension ...
Windshield wiper switch assy
Replacement 1. Remove steering column cover lwr Remove 3 screws and steering column cover lwr. 2. Remove windshield wiper switch assy Disconnect the connecter of the windshield wiper switch. release the claw and pull out the windshield wiper switch assy as shown in the ...
© 2011-2020 Copyright www.tcorolla.net