Toyota Corolla Repair Manual: Replacement
1. Drain brake fluid
Notice
: wash the brake fluid off immediately if it comes into contact with any painted surface.
2. Remove front wheel rh
3. Remove front fender liner rh
4. Remove brake actuator with bracket
turn the latch of the actuator connector to disconnect the connector.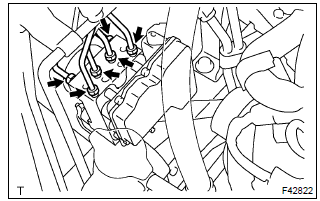 Using sst, disconnect the 6 brake tubes from the brake actuator.

Sst 09023–00100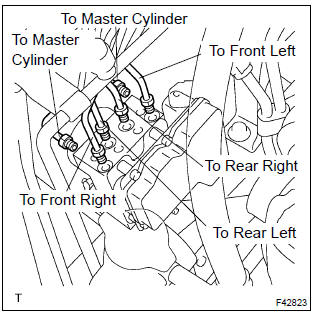 Attach tags or make a memo to identify the place to reconnect.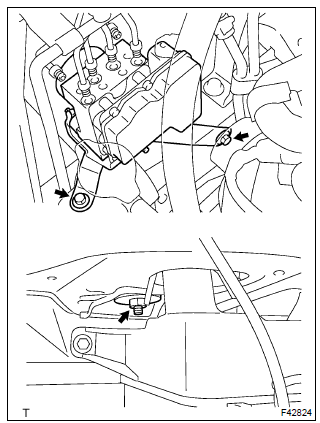 Remove the nut, 2 bolts and brake actuator with bracket.
5. Remove brake actuator assy
remove the 3 nuts and brake actuator from bracket.
6. Install brake actuator assy
install the brake actuator with the 3 nuts to the bracket.

Torque: 4.7 Nvm (48 Kgf·cm, 42 in.Vlbf)
7. Install brake actuator with bracket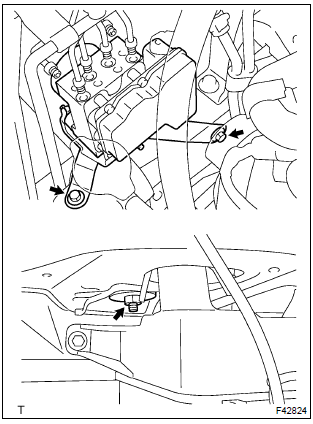 Install the brake actuator with bracket with the nut and 2 bolts.

Torque: 19 nvm (194 Kgf·cm, 14 ft·lbf)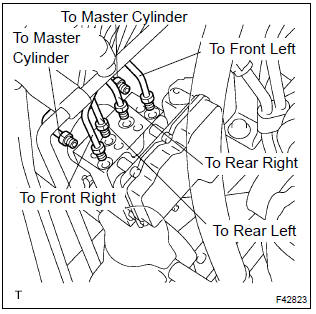 Using sst, connect the 6 brake tubes to the correct position of brake actuator, as shown in the illustration.

Sst 09023–00100
torque: 15.2 Nvm (155 Kgf·cm, 11 ft·lbf)

connect the brake actuator connector.
8. Install front fender liner rh
9. Install front wheel rh
torque: 103 nvm (1,050 Kgf·cm, 76 ft·lbf)
10. Fill reservoir with brake fluid
11. Bleed master cylinder
sst 09023–00100
12. Bleed brake line
13. Check fluid level in reservoir
14. Check brake fluid leakage
15. Check brake actuator with hand–held tester
1. Connect hand–held tester: connect the hand–held tester to the dlc3. start the engine and run it at idle. select the active test mode on the hand–held tester. Hint: ple ...
Replacement Hint: replace the rh side by the same procedure as the lh side. 1. Remove front wheel 2. Remove front fender liner lh 3. Remove speed sensor front lh Disconnect the speed sens ...
Other materials:
Receiving a phone call
Answering the phone Press the off-hook switch. Refusing a call Press the on-hook switch. Receiving a call when on another call Press the off-hook switch. Pressing the off-hook switch again returns you to the previous call. Adjusting the ringtone volume when receiving a call Change the ringto ...
Fuel system
Precaution 1. Before working on fuel system, disconnect negative (–) terminal cable from battery 2. Do not smoke or work near an open flame when working on fuel system 3. Keep gasoline away from rubber or leather parts 4. Work for prevent gasoline from spilling out Remove the rear sea ...
Precaution
1. Do not handle refrigerant in an enclosed area or near an open flame 2. Always wear eye protection 3. Be careful not to get liquid refrigerant in your eyes or on your skin If liquid refrigerant gets in your eyes or on your skin. wash the area with lots of cool water. Cautio ...
© 2011-2021 Copyright www.tcorolla.net