Toyota Corolla Repair Manual: Replacement
1. Drain brake fluid
Notice
: wash the brake fluid off immediately if it comes into contact with any painted surface.
2. Remove front wheel rh
3. Remove front fender liner rh
4. Remove brake actuator with bracket
turn the latch of the actuator connector to disconnect the connector.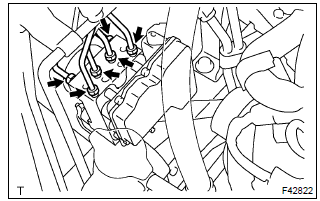 Using sst, disconnect the 6 brake tubes from the brake actuator.

Sst 09023–00100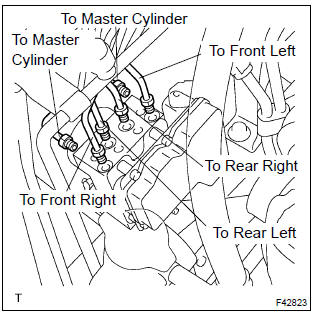 Attach tags or make a memo to identify the place to reconnect.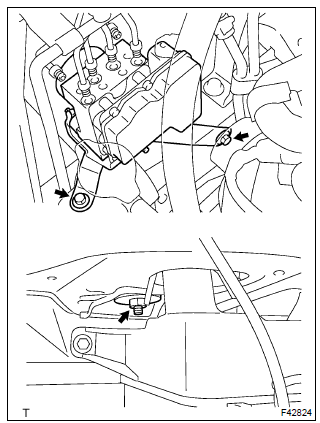 Remove the nut, 2 bolts and brake actuator with bracket.
5. Remove brake actuator assy
remove the 3 nuts and brake actuator from bracket.
6. Install brake actuator assy
install the brake actuator with the 3 nuts to the bracket.

Torque: 4.7 Nvm (48 Kgf·cm, 42 in.Vlbf)
7. Install brake actuator with bracket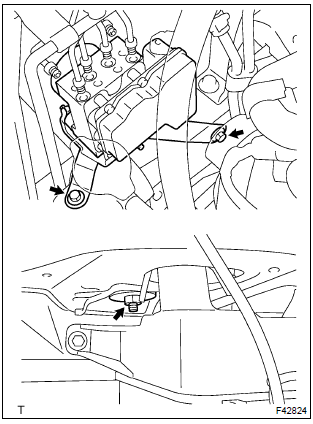 Install the brake actuator with bracket with the nut and 2 bolts.

Torque: 19 nvm (194 Kgf·cm, 14 ft·lbf)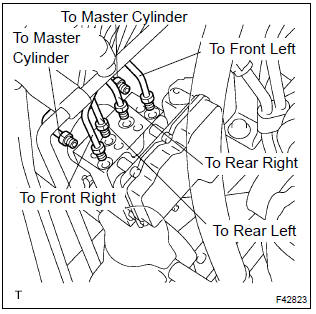 Using sst, connect the 6 brake tubes to the correct position of brake actuator, as shown in the illustration.

Sst 09023–00100
torque: 15.2 Nvm (155 Kgf·cm, 11 ft·lbf)

connect the brake actuator connector.
8. Install front fender liner rh
9. Install front wheel rh
torque: 103 nvm (1,050 Kgf·cm, 76 ft·lbf)
10. Fill reservoir with brake fluid
11. Bleed master cylinder
sst 09023–00100
12. Bleed brake line
13. Check fluid level in reservoir
14. Check brake fluid leakage
15. Check brake actuator with hand–held tester
1. Connect hand–held tester: connect the hand–held tester to the dlc3. start the engine and run it at idle. select the active test mode on the hand–held tester. Hint: ple ...
Replacement Hint: replace the rh side by the same procedure as the lh side. 1. Remove front wheel 2. Remove front fender liner lh 3. Remove speed sensor front lh Disconnect the speed sens ...
Other materials:
Air outlets
■ Location of air outlets The air outlets and air volume changes according to the selected airflow mode. : Some models ■ Adjusting the position of and opening and closing the air outlets ► Front center outlets Direct air flow to the left or right, up or down. ► Fro ...
Overhaul
Hint: component: 1. Discharge refrigerant from refrigeration system sst 07110–58060 (07117–58080, 07117–58090, 07117–78050, 07117–88060, 07117–88070, 07117–88080) 2. Disconnect cooler refrigerant suction hose no.1 Install sst to piping clamp. Sst 09870–00015 Hint: confirm the d ...
Eco Driving Indicator Light customization (except vehicles with a manual transmission)
Eco Driving Indicator Light can be activated or deactivated. 1 While the odometer is being displayed, press and hold the "DISP" switch to display the Eco Driving Indicator Light customization screen. 2 Press the "DISP" switch to set Eco Driving Indicator Light to on or off. 3 Press and hold the ...
© 2011-2019 Copyright www.tcorolla.net