Toyota Corolla Body Repair Manual: Precaution
1. Work precautions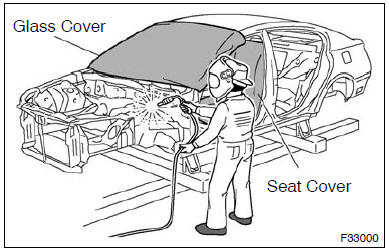 (A) vehicle protection
(1) when welding, cover glass, seats, carpets, etc. With heat resistant fireploof covers to protect them.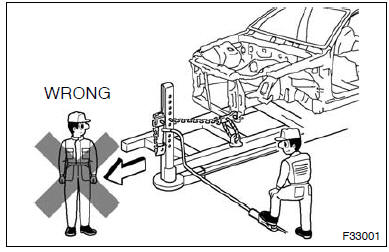 (B) safety
(1) never stand in the path of the chain when using a puller on the body or frame, and be sure to attach a safety cable.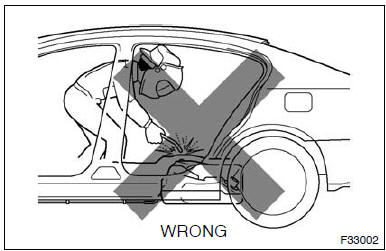 (2) If it is necessary to use a frame in the area of the fuel tank, first remove the tank and plug the fuel line.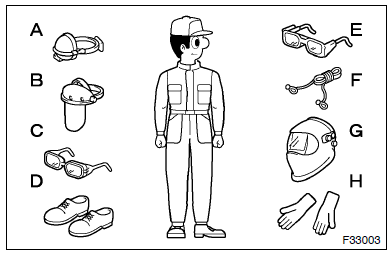 (C) safety work clothes
(1) in addition to the usual mechanic's wear, cap and safety shoes, the appropriate gloves, head protector, welder's glasses, ear plugs, face protector, dust mask, etc. Should be worn as the situation demands.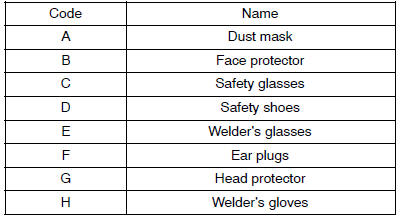 2. Precautions when repairing body frame parts (including crush box)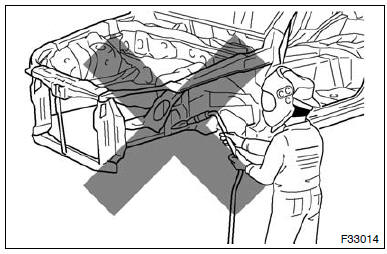 (A) prohibition of heat repair for body frame parts
(1) rustproof high strength steel sheets are used for the body frame. Therefore, if these parts are heat repaired using an acetylene torch or equivalent, the crystalline structure changes, causing the strength of the steel sheets to decrease. Also, the zinc corting which is used to protect the body from rust will be damaged. This causes the surface of the steel sheets to become oxidized, which reduces their ability to resist rust.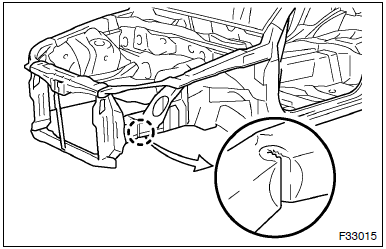 (B) when to replace frame parts
Notice
: replace frame parts that have kinks. Hint: what is kink? A deformatision bon a steel sheet that cannot be returned to its original shape by pulling or hammering due to the deformation angle being sharp.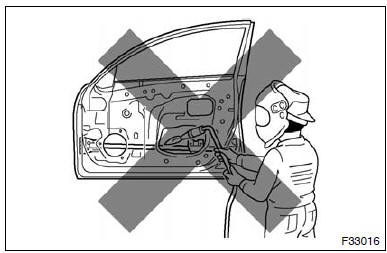 (C) repair of door side impact beam is prohibited
(1) the impact beam is desined so that it performs at 100% in its original shape.
However, if the impact beam is repaired, its performance may not be the same as before the accident.
Parts ehich are prohibited to be repaired: door side impact beam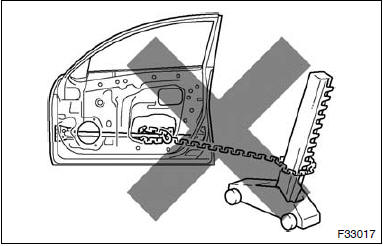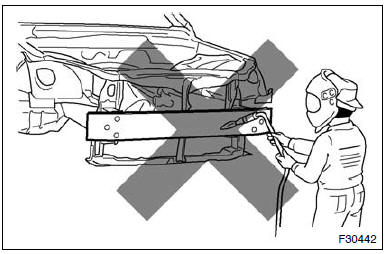 (D) repair of bumper reinforcement is prohibited
(1) the bumper reinforcement is designed so that it parforms at 100% in uts original shape.
However, if the impact beam is repaired, its performance may not be the same as before the accident.
Parts ehich are prohibited to be repaired: bumper reinforcement
3. Precautions for correct repair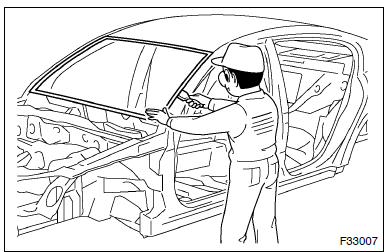 (A) removal of adjacent components
(1) when removing adjacent components, apply protective tape to the surrounding body and your tools to prevent damage.
Notice
: if the paint film is damaged, make sure to refinish the paint.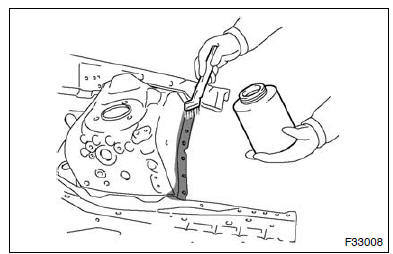 (B) anti-rust treatment before welding
(1) apply welding primer to the contact surfaces of the welding areas to protect them from rust.
Notice
: do not apply welding primer outside of the contact surfaces.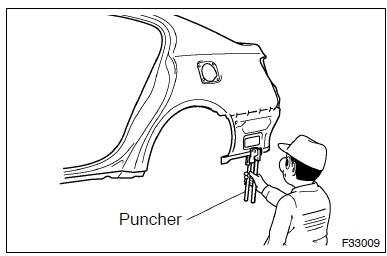 (C) making holes for plug welding
(1) for areas where a spot welder cannot be used, use a puncher or drill to make holes for plug welding.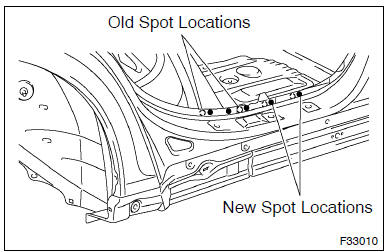 (D) welding precautions
(1) the number of welding spots should be as follows.
Spot weld: 1.3 X no. Of manufacturer's spots plug weld: more than no. Of manufacturer's plugs (2) spot weld locations avoid welding over previously welded areas.
8. Precautions for resin parts
(a) plastic properties chart
(1) when repairing, some parts may be deformed by the heat. Therefore, confirm the properties of the platic parts, and remove parts beforehand as necessary.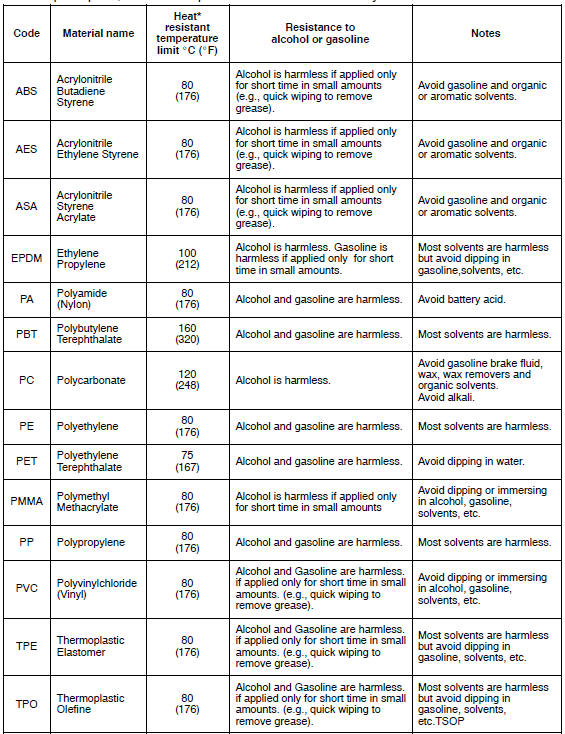 * Temperatures higher than those listed here may result in material deformation during repair.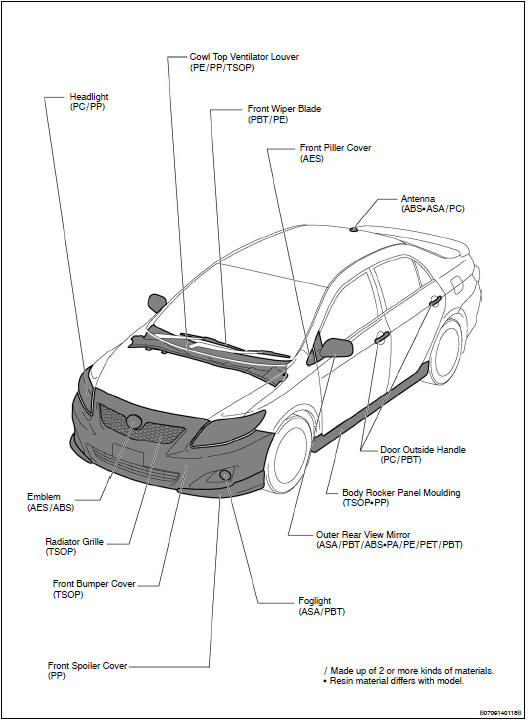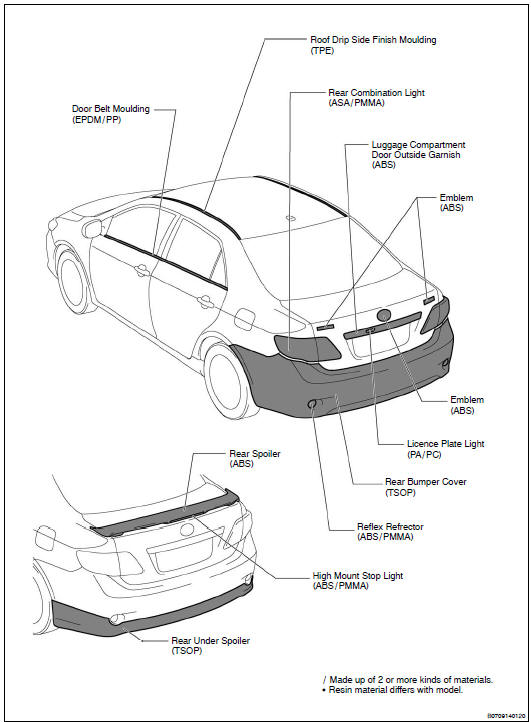 4. Anti-rust treatment after installation (A) body sealer application Purpose: for water-proofing and anti-rust measures, always apply the body sealer to the body panel seams and hems of the ...
1. Structural outline 2. Notice about vehicle condition when jacking up vehicle (a) notice for using jack and safety stand (B) notice for using swing arm type lift (C) notice for ...
Other materials:
Lower ball joint assy front lh
Replacement Hint: components: 1. Inspect lower ball joint assy front lh Jack up front side of the vehicle. check the rattle of the lower ball joint assy front lh. 2. Remove front wheel 3. Remove front axle hub lh nut sst 09930–00010 4. Disconnect speed sensor front lh (w/ ab ...
Aluminum wheel precautions (if equipped)
● Use only Toyota wheel nuts and wrenches designed for use with your aluminum wheels. ● When rotating, repairing or changing your tires, check that the wheel nuts are still tight after driving 1000 miles (1600 km). ● Be careful not to damage the aluminum wheels when using tir ...
Circuit description
Refer to dtc p0115 Dtc no. Dtc detection condition Trouble area P0125 If the engine coolant temperature (ect) was less than –6.6 °C (20 °F) when starting the engine, and 20 minutes after the engine start, the ect sensor still indicates below 20 °C (68 °F) ...
© 2011-2020 Copyright www.tcorolla.net