Toyota Corolla Owners Manual: Location of the spare tire, jack and tools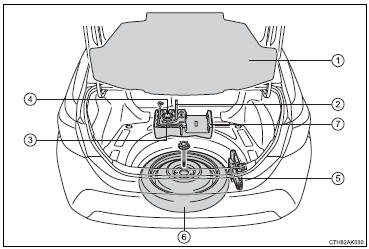 1 Luggage floor cover 2 Wheel nut wrench
3 Jack handle
4 Jack attachment*
5 Jack
6 Spare tire
7 Tool tray
*: The jack attachment is used when raising your vehicle with a floor jack.
CAUTION
■Using the tire jack
Observe the following precautions.
Improper use of the tire jack may cause the vehicle to suddenly fall off the jack, leading to death or serious injury.
●Do not use the tire jack for any purpose other than replacing tires or installing and removing tire chains.
●Only use the tire jack that comes with this vehicle for replacing a flat tire.
Do not use it on other vehicles, and do not use other tire jacks for replacing tires on this vehicle.
●Put the jack properly in its jack point.
●Do not put any part of your body under the vehicle while it is supported by the jack.
●Do not start the engine or drive the vehicle while the vehicle is supported by the jack.
●Do not raise the vehicle while someone is inside.
●When raising the vehicle, do not put an object on or under the jack.
●Do not raise the vehicle to a height greater than that required to replace the tire.
●Use a jack stand if it is necessary to get under the vehicle.
●When lowering the vehicle, make sure that there is no-one near the vehicle. If there are people nearby, warn them vocally before lowering.
● Stop the vehicle on a hard, flat surface. ● Set the parking brake. ● Shift the shift lever to P (automatic transmission or continuously variable transmission) or R (manual tran ...
1 Remove the luggage floor cover. 2 Take out the jack. 1 For tightening 2 For loosening ...
Other materials:
On–vehicle inspection
1. Inspect brake booster Airtightness check. Start the engine and stop it after 1 or 2 minutes. Depress the brake pedal several times slowly. Hint: if the pedal goes down farthest at the 1st time, but gradually rises after the 2nd or 3rd time, the booster is airtight. ...
Starting off on a steep uphill
► Automatic transmission or continuously variable transmission 1 Make sure that the parking brake is set and shift the shift lever to D. 2 Gently depress the accelerator pedal. 3 Release the parking brake. ► Manual transmission 1 With the parking brake firmly set and the clutch pe ...
Pre–check
1. Diagnosis check Starting diagnosis mode (service check mode) turn off the audio system and turn the ig switch to acc. While pressing the preset switches "1" and "6" at the same time, press "cd" 3 times. Reference: beep sound is given 3 times and the system enters ...
© 2011-2018 Copyright www.tcorolla.net