Toyota Corolla Repair Manual: Inspection procedure
Hint
: read freeze frame data using the hand-held tester or the obd ii scan tool. Freeze frame data records the engine conditions when a malfunction is detected. When troubleshooting, it is useful for determining whether the vehicle was running or stopped, the engine was warmed up or not, the air–fuel ratio was lean or rich, etc. At the time of the malfunction.
1 Check operation of speedometer
Drive the vehicle and check if the operation of the speedometer in the combination meter is normal.
Hint
: the vehicle speed sensor is operating normally if the speedometer display is normal.


2 Inspect ecm(spd voltage)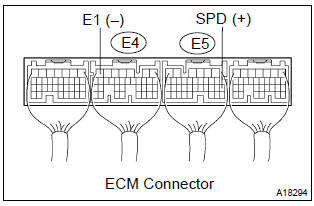 Shift the lever to the neutral position.
jack up the vehicle.
turn the ignition switch on.
check the voltage between the terminals of the e4 and e5 ecm connectors as the wheel is turned slowly.
Standard: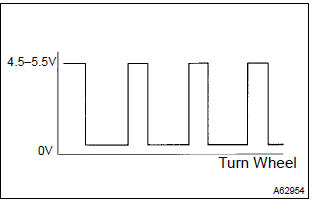 Hint
: the output voltage should fluctuate up and down similarly to the diagram on the left when the wheel is turned slowly.


Replace ecm
The vehicle equipped with abs detects a vehicle speed using the stability control ecu and wheel speed sensor. This sensor monitors a wheel rotation speed and sends the signal to the ecu. The s ...
Dtc p0505 idle air control system Dtc p0511 idle air control circuit ...
Other materials:
Inspection procedure
1 Inspect shift solenoid valve(sl) Remove the shift solenoid valve sl. measure the resistance according to the value(s) in the table below. Standard: Connect the positive (+) battery lead to the solenoid connector terminal, and the negative (–) battery lead to the sole ...
On–vehicle inspection
1. Inspect drive belt Visually check the belt for excessive wear, frayed cords, etc. If any defect is found, replace the drive belt. Hint: cracks on the rib side of a belt are considered acceptable. If the missing chunks from the ribs are found on the belt, it should be replaced. 2 ...
Circuit description
The fuel trim is related to the feedback compensation value, not to the basic injection time. The fuel trim includes the short–term fuel trim and the long–term fuel trim. The short–term fuel trim is the short–term fuel compensation used to maintain the air–fuel ratio at stoichiometric air–f ...
© 2011-2020 Copyright www.tcorolla.net