Toyota Corolla Repair Manual: Inspection procedure
Hint
: read freeze frame data using the hand-held tester or the obd ii scan tool. Freeze frame data records the engine conditions when a malfunction is detected. When troubleshooting, it is useful for determining whether the vehicle was running or stopped, the engine was warmed up or not, the air–fuel ratio was lean or rich, etc. At the time of the malfunction.
1 Check operation of speedometer
Drive the vehicle and check if the operation of the speedometer in the combination meter is normal.
Hint
: the vehicle speed sensor is operating normally if the speedometer display is normal.


2 Inspect ecm(spd voltage)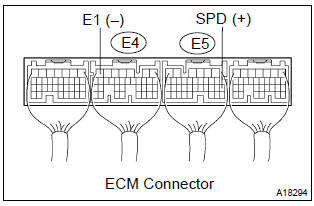 Shift the lever to the neutral position.
jack up the vehicle.
turn the ignition switch on.
check the voltage between the terminals of the e4 and e5 ecm connectors as the wheel is turned slowly.
Standard: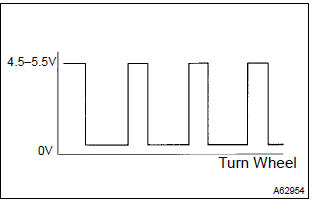 Hint
: the output voltage should fluctuate up and down similarly to the diagram on the left when the wheel is turned slowly.


Replace ecm
The vehicle equipped with abs detects a vehicle speed using the stability control ecu and wheel speed sensor. This sensor monitors a wheel rotation speed and sends the signal to the ecu. The s ...
Dtc p0505 idle air control system Dtc p0511 idle air control circuit ...
Other materials:
Inspection procedure
Hint: start the inspection from step 1 in case of using the hand–held tester and start from step 2 in case of not using the hand–held tester. 1 Read value of hand–held tester(skid control sensor) Check that there is no difference between the speed value output from the speed sensor displ ...
System description
The ecm uses signals from the vehicle speed sensor and crankshaft position sensor to detect the actual gear position (1st, 2nd, 3rd or o/d gear). Then the ecm compares the actual gear with the shift schedule in the ecm memory to detect the mechanical trouble of the shift solenoid valves, th ...
Inspection
1. Cooler thermistor no.1 Check resistance between terminals 1 and 2 of cooler thermistor no. 1 At each temperature, as shown in the chart. Resistance: If resistance value is not as specified, replace the sensor. 2. Cooler and accessory assy Inspect blower switch contin ...
© 2011-2019 Copyright www.tcorolla.net