Toyota Corolla Owners Manual: If the vehicle becomes stuck
Carry out the following procedures if the tires spin or the vehicle becomes stuck in mud, dirt or snow:
1 Stop the engine. Set the parking brake and shift the shift lever to P (automatic transmission or continuously variable transmission) or N (manual transmission).
2 Remove the mud, snow or sand from around the front wheels.
3 Place wood, stones or some other material under the front wheels to help provide traction.
4 Restart the engine.
5 Shift the shift lever to D or R (automatic transmission or continuously variable transmission) or 1 or R (manual transmission) and release the parking brake. Then, while exercising caution, depress the accelerator pedal.
■When it is difficult to free the vehicle (vehicles with a TRAC system)
Press

to turn off TRAC.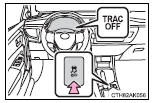 CAUTION
■When attempting to free a stuck vehicle
If you choose to push the vehicle back and forth to free it, make sure the surrounding area is clear to avoid striking other vehicles, objects or people.
The vehicle may also lunge forward or lunge back suddenly as it becomes free. Use extreme caution.
■When shifting the shift lever
Be careful not to shift the shift lever with the accelerator pedal depressed.
This may lead to unexpected rapid acceleration of the vehicle that may cause an accident resulting in death or serious injury.
NOTICE
■To avoid damaging the transmission and other components
●Avoid spinning the front wheels and depressing the accelerator pedal more than necessary.
●If the vehicle remains stuck even after these procedures are performed, the vehicle may require towing to be freed.
The following may indicate that your vehicle is overheating. ● Vehicles without a multi-information display: The high engine coolant temperature warning light comes on or a loss of powe ...
Other materials:
Circuit description
In the diagram below, when the engine is cranked, current flows from terminal st2 of the ignition switch to the starter relay coil and also current flows to terminal sta of the ecm (sta signal). When the sta signal and ne signal are input to the ecm, tr is turned on, current flows to the c ...
Circuit description
The rear heated oxygen sensor is used to monitor oxygen concentration in the exhaust gas. For optimum catalytic converter operation, the air fuel mixture must be maintained near the ideal "stoichiometric" ratio. The heated oxygen sensor output voltage changes suddenly in the vicinity of the ...
Inspection procedure
Hint: start the inspection from step 1 in case of using the hand–held tester and start from step 2 in case of not using hand–held tester. 1 Inspect brake actuator assy Select the datalist mode on the hand–held tester. check the operation sound of the abs pump motor when operating it ...
© 2011-2018 Copyright www.tcorolla.net