Toyota Corolla Repair Manual: Engine
On–vehicle inspection
Hint
: inspect these items on a cooled down engine.
1. Inspect drive belt
2. Replace spark plugs
3. Inspect air filter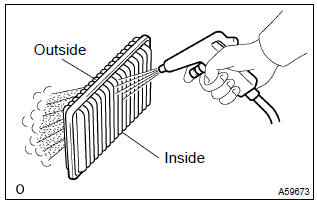 Remove the air filter.
visually check that the air filter is not excessively damaged, dirty or oily.

Peplace the air filter if necessary.

clean the filter with compressed air.

First blow from the inside of the filter thoroughly then repeat from the outside.

reinstall the air filter.
4. Replace air filter
replace the air filter with a new one.
5. Replace engine oil and oil filter
6. Replace engine coolant
7. Inspect gasket in fuel tank cap
8. Inspect fuel lines and connections, fuel tank vapor vent system hoses and fuel tank bands
visually check the fuel lines for cracks, leakage, loose connections, deformation and tank band looseness.
9. Inspect exhaust pipes and mountings
visually check the pipes, hangers and connections for severe corrosion, leaks and damage.
10. Inspect valve clearance
General maintenance 1. General notes maintenance requirements vary depending on the country. Check the maintenance schedule in the owner's manual supplement. Following the maintenance schedul ...
On–vehicle inspection 1. Inspect brake line pipes and hoses Hint: work in a well–lighted area. Turn the front wheels fully to the right or left before begining. check all the brake l ...
Other materials:
Tire & wheel
Wheel and tire system Inspection 1. Inspect tire check the tires for wear and proper inflation pressure. Cold tire inflation pressure: Using a dial indicator, check the tire runout. Tire runout: 3.0 Mm (0.118 In.) Or less 2. Rotate tire Hint: see the illustration ...
Inspection
1. Inspect defogger relay (marking: def) Remove the defogger relay from the instrument panel j/b. inspect the defogger relay. Standard: If the result is not as specified, replace the relay ...
Removal and installation of fuel control parts
Place for removing and installing of fuel system parts work in a place with good air ventilation and without anything flammable such as welder, grinder, drill, electric motor or stove in the surroundings. Never work in a place such as a pit or nearby a pit, as there is a ...
© 2011-2019 Copyright www.tcorolla.net