Toyota Corolla Owners Manual: Customization
Customizable features
Your vehicle includes a variety of electronic features that can be personalized to suit your preferences. Programming these preferences requires specialized equipment and may be performed by your Toyota dealer.
Customizing vehicle features
■ Changing by using the navigation system
1 Press the "APPS" button.
2 Select "Setup" on the "Apps" screen and select "Vehicle".
Various setting can be changed. Refer to the list of settings that can be changed for details.
■ Changing by using the multimedia system
■ Changing by using the door lock swit
ch
Customizable features
Some function settings are changed simultaneously with other functions being customized. Contact your Toyota dealer for further details.
1 Settings that can be changed using the navigation system/multimedia system 2 Settings that can be changed by your Toyota dealer Definition of symbols: O = Available, —=Not available
■ Door lock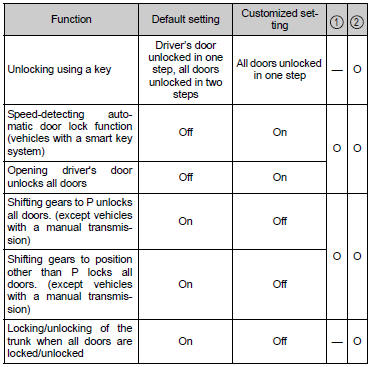 ■ Smart key system* and wireless remote control*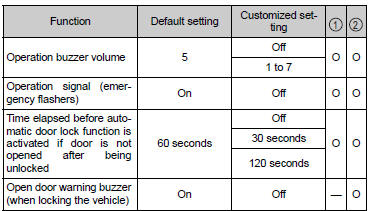 *: If equipped
■ Smart key system*

*: If equipped
■ Wireless remote control*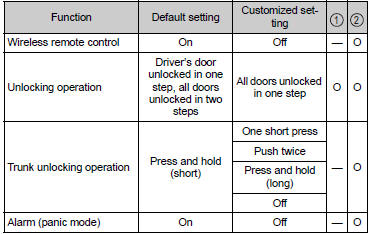 *: If equipped
■ Turn signal lever

*1: After flashing the turn signal lights when turning left or right while this function is off and the turn signal lever is moved to the first position in the direction of the flashing light, the turn signal lights can be selected to be flashing or off.
*2: The turn signal lights will be off if the turn signal lever is moved to the first position in the direction of flashing light.
■ Automatic light control system*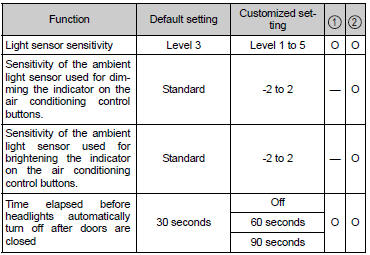 *: If equipped
■ Lights

*: U.S.A. only
■ Automatic air conditioning system*
*: If equipped
■ Illumination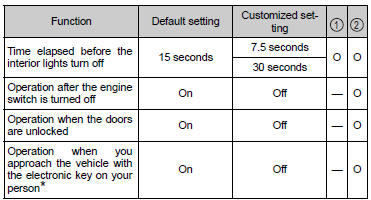 *: Vehicles with a smart key system
■Vehicle customization
When the doors remain closed after unlocking the doors and the timer activated automatic door lock function activates, signals will be generated in accordance with the operational signal (Emergency flashers) function settings.
■When customizing using the navigation system
Stop the vehicle in a safe place, apply the parking brake, and shift the shift lever to P (automatic transmission or continuously variable transmission) or N (manual transmission). Also, to prevent battery discharge, leave the engine running while customizing the features.
CAUTION
■During customization
As the engine needs to be running during customization, ensure that the vehicle is parked in a place with adequate ventilation. In a closed area such as a garage, exhaust gases including harmful carbon monoxide (CO) may collect and enter the vehicle. This may lead to death or a serious health hazard.
NOTICE
■During customization
To prevent battery discharge, ensure that the engine is running while customizing features.
*: Table 1 - Occupant loading and distribution for vehicle normal load for various designated seating capacities ...
Items to initialize The following items must be initialized for normal system operation after such cases as maintenance being performed on the vehicle: ...
Other materials:
Overhaul
1. Drain brake fluid Notice: wash the brake fluid off immediately if it comes into contact with any painted surface. 2. Remove air cleaner cap sub–assy 3. Remove brake master cylinder sub–assy disconnect the brake fluid level switch connector from master cylinder reservoir sub–assy ...
Ecu power source circuit
Circuit description This circuit provides power to operate the tvip ecu. Wiring diagram Inspection procedure 1 Check fuse (ecu–b) Remove the fuse from the instrument panel j/b. check the continuity of the fuse. Standard: continuity 2 Check tvip ecu Disconnect th ...
Replacement
1. Remove hood sub–assy 2. Remove cylinder head cover no.2 3. Remove battery 4. Remove battery carrier Remove the 4 bolts and battery carrier. 5. Remove air cleaner assembly with hose 6. Remove floor shift cable transmission control shift Remove the nut from the control shaft ...
© 2011-2020 Copyright www.tcorolla.net