Toyota Corolla Repair Manual: Circuit description
When driving uphill under cruise control, in order to reduce the number of shifting due to on–off overdrive operation and to provide smooth driving, when down shifting in the electronically controlled transmission occurs, a signal to prevent upshift until the end of the uphill slope is sent from the cruise control ecu assy to the electronically controlled transmission.
Terminal ect of the cruise control ecu assy detects the shift change signal (output to electronically controlled transmission no.2 Solenoid) from the ecm.
If the vehicle slows down, also when terminal ect of the cruise control ecu assy receives down shifting signal, it sends a signal from terminal od to ecm to cut overdrive until the end of the uphill slope, and the number of gear shifts are reduced and gear shift points in the electronically controlled transmission are changed.
Wiring diagram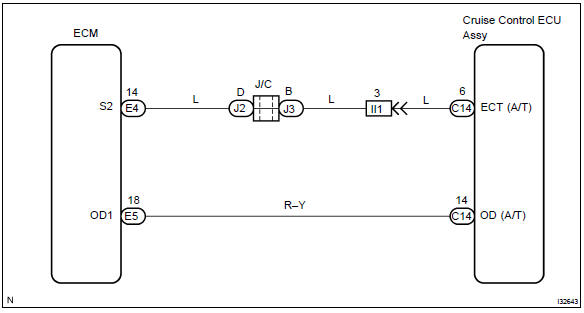 1 Check operation(overdrive) Drive the vehicle after the engine warms up. check that overdrive on e off occurs by an operation of the o/d switch on–off. 2 Inspect terminal voltag ...
Other materials:
Circuit description
The ignition switch provides circuit power and the ecm provides the circuit ground that illuminates the mil. Mil operation is checked visually: it should be illuminated when the ignition is first turned on. If the mil is off all of the time or on all of the time, use the procedure below to ...
Coolant
Replacement 1. Drain coolant Caution: to avoid the danger of being burned, do not remove the radiator cap while the engine and radiator are still hot, as fluid and steam can be blown out under pressure. remove the radiator cap. loosen the radiator and engine drain plugs, a ...
Data list/active test
1. Data list Hint: using the data list displayed by the hand–held tester or the obd ii scan tool, you can read the value of the switches, sensors, actuators and so on without parts removal. Reading the data list as a first step of troubleshooting is one method to shorten diagnostic time. ...
© 2011-2019 Copyright www.tcorolla.net