Toyota Corolla Repair Manual: Precaution
1. Do not handle refrigerant in an enclosed area or near an open flame
2. Always wear eye protection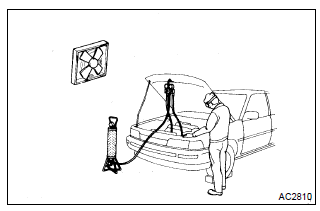 3. Be careful not to get liquid refrigerant in your eyes or on your skin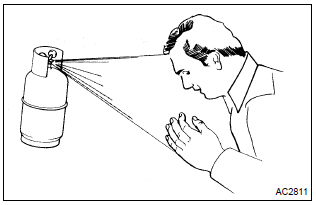 If liquid refrigerant gets in your eyes or on your skin.
wash the area with lots of cool water.

Caution

: do not rub your eyes or skin.

apply clean petroleum jelly to the skin.
go immediately to a physician or hospital for professional treatment.
4. Never heat container or expose it to naked flame
5. Be careful not to drop container and not to apply physical shocks to it
6. Do not operate compressor without enough refrigerant in refrigerant system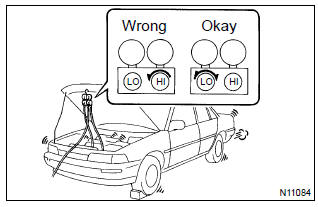 If there is not enough refrigerant in the refrigerant system oil lubrication will be insufficient and compressor burnout may occur, so take care to avoid this, necessary care should be taken.
7. Do not open high pressure manifold valve while compressor is operating
If the high pressure valves opened, refrigerant flows in the reverse direction and could cause the charging cylinder to rupture, so open and close the only low pressure valve.
8. Be careful not to overcharge system with refrigerant
If refrigerant is overcharged, it causes problems such as insufficient cooling, poor fuel economy, engine overheating etc.
1. Inspect pressure switch no.1. Magnetic clutch control: inspect pressure switch operation. Set on the manifold gauge set. Connect the positive (+) lead from the ohmmete ...
Other materials:
Adjustment
1. Put vehicle these conditions tire inflation pressure is the specified value . start the engine. 2. Adjust fog light aim The fog light aim can be adjusting by moving the aiming screw in the vertical direction. Hint: the optical aim moves upward when turning a scr ...
Inspection
1. Charcoal canister assy Visually check the charcoal canister for cracks or damage. Inspect the charcoal canister operation. Plug the vent port with the cap. While holding the purge port closed, blow air (1.76 Kpa, 18 gf/cm2, 0.26 Psi) into the evap port and ...
Circuit description
The rotary solenoid type idle air control (iac) valve is located under the throttle body and intake air bypassing the throttle valve flows into the iac valve through the passage. In this way the intake air volume bypassing the throttle valve is regulated, controls the engine speed. The ...
© 2011-2019 Copyright www.tcorolla.net