Toyota Corolla Repair Manual: Front differential oil seal
Replacement
1. Drain manual transaxle oil
torque: 39.2 Nvm (400 Kgf·cm, 29 ft·lbf)
2. Remove front wheels
3. Remove engine under cover lh
4. Remove engine under cover rh
5. Drain transaxle oil
6. Remove front drive shaft assy lh
sst 09520–01010, 09520–24010 (09520–32040)
7. Remove front drive shaft assy rh
sst 09520–01010, 09520–24010 (09520–32040)
8. Remove transaxle case oil seal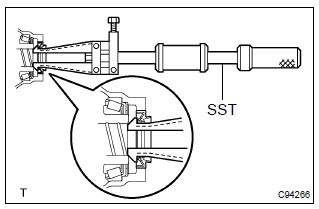 Using sst, remove the transaxle case oil seal.

Sst 09308–00010
9. Remove transmission case oil seal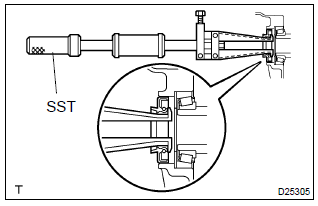 Using sst, remove the transmission case oil seal.

Sst 09308–00010
10. Install transaxle case oil seal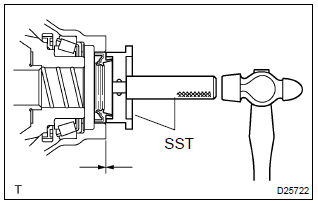 Coat a new oil seal lip with mp grease.
using sst and a hammer, install the transaxle case oil seal.

Sst 09554–14010, 09950–70010 (09951–07200) drive in depth: 1.9 0.3 Mm (0.075 0.012 In.)
Notice
: be careful not to damage the oil seal lip.
11. Install transmission case oil seal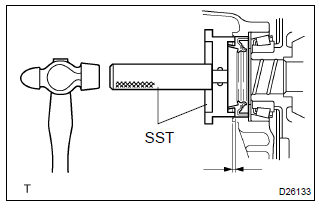 Coat a new oil seal lip with mp grease.
using sst and a hammer, install the transmission case oil seal.

Sst 09554–14010, 09950–70010 (09951–07200) drive in depth: 9.9 0.3 Mm (0.390 0.012 In.) Notice

: be careful not to damage the oil seal lip.

Install front drive shaft assy lh
Install front drive shaft assy rh
Install front wheels torque: 103 nvm (1,050 Kgf·cm, 76 ft·lbf)
Add manual transaxle oil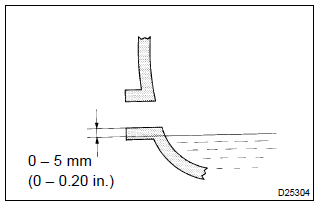 Oil grade: api gl–4 or gl–5 viscosity: sae 75 w–90
capacity:1.9 Liters (2.0 Us qts, 1.7 Lmp. Qts) torque: 39.2 Nvm (400 Kgf·cm, 29 ft·lbf)
16. Inspect and adjust manual transaxle oil
17. Inspect and adjust front wheel alignment
18. Check abs speed sensor signal
On–vehicle inspection 1. Inspect transaxle oil Stop the vehicle on the level place. remove the transmission filler plug and gasket. check that the oil surface is within 5 mm ( ...
Other materials:
Screen for general settings
1 Press the "SETUP" button. 2 Select "General" on the "Setup" screen. 1 "English", "Français" or "Español" can be selected. 2 On/off can be selected to sound beeps. 3 Select to change the screen color. 4 Select to change the keyboard layout. 5 The animation effect for the screen ...
Emergency flashers
The emergency flashers are used to warn other drivers when the vehicle has to be stopped in the road due to a breakdown, etc. Press the switch. All the turn signal lights will flash. To turn them off, press the switch once again. ■Emergency flashers If the emergency flashers are used ...
Replacement
Hint: components: 1. Remove floor shift shift lever knob sub–assy 2. Remove console panel upper 3. Remove parking brake hole cover sub–assy 4. Remove console box sub–assy rear 5. Separate floor shift cable transmission control shift Separate the end of the shift cable from the shift ...
© 2011-2019 Copyright www.tcorolla.net