Toyota Corolla Repair Manual: Front differential oil seal
Replacement
1. Drain manual transaxle oil
torque: 39.2 Nvm (400 Kgf·cm, 29 ft·lbf)
2. Remove front wheels
3. Remove engine under cover lh
4. Remove engine under cover rh
5. Drain transaxle oil
6. Remove front drive shaft assy lh
sst 09520–01010, 09520–24010 (09520–32040)
7. Remove front drive shaft assy rh
sst 09520–01010, 09520–24010 (09520–32040)
8. Remove transaxle case oil seal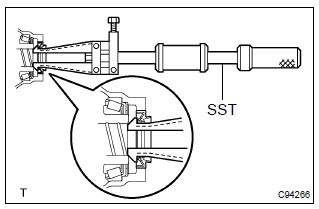 Using sst, remove the transaxle case oil seal.

Sst 09308–00010
9. Remove transmission case oil seal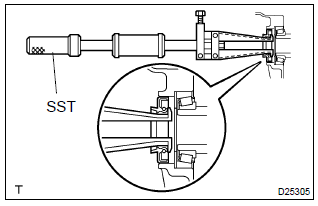 Using sst, remove the transmission case oil seal.

Sst 09308–00010
10. Install transaxle case oil seal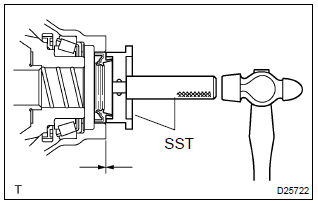 Coat a new oil seal lip with mp grease.
using sst and a hammer, install the transaxle case oil seal.

Sst 09554–14010, 09950–70010 (09951–07200) drive in depth: 1.9 0.3 Mm (0.075 0.012 In.)
Notice
: be careful not to damage the oil seal lip.
11. Install transmission case oil seal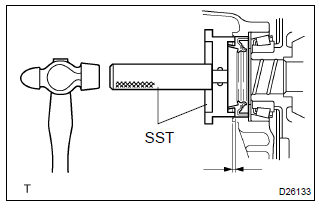 Coat a new oil seal lip with mp grease.
using sst and a hammer, install the transmission case oil seal.

Sst 09554–14010, 09950–70010 (09951–07200) drive in depth: 9.9 0.3 Mm (0.390 0.012 In.) Notice

: be careful not to damage the oil seal lip.

Install front drive shaft assy lh
Install front drive shaft assy rh
Install front wheels torque: 103 nvm (1,050 Kgf·cm, 76 ft·lbf)
Add manual transaxle oil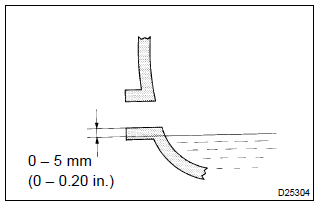 Oil grade: api gl–4 or gl–5 viscosity: sae 75 w–90
capacity:1.9 Liters (2.0 Us qts, 1.7 Lmp. Qts) torque: 39.2 Nvm (400 Kgf·cm, 29 ft·lbf)
16. Inspect and adjust manual transaxle oil
17. Inspect and adjust front wheel alignment
18. Check abs speed sensor signal
On–vehicle inspection 1. Inspect transaxle oil Stop the vehicle on the level place. remove the transmission filler plug and gasket. check that the oil surface is within 5 mm ( ...
Other materials:
Fuel information
You must only use unleaded gasoline in your vehicle. Select octane rating 87 (Research Octane Number 91) or higher. Use of unleaded gasoline with an octane rating lower than 87 may result in engine knocking. Persistent knocking can lead to engine damage. At minimum, the gasoline you use should ...
Inspection procedure
Hint: start the inspection from step 1 in case of using the hand–held tester and start from step 2 in case of not using hand–held tester. 1 Inspect brake actuator assy Select the datalist mode on the hand–held tester. check the operation sound of the abs pump motor when operating it ...
Headlamp dimmer switch assy
Replacement 1. Remove steering column cover lwr Remove 3 screws and steering column cover lwr. 2. Remove headlamp dimmer switch assy Disconnect the connector. release the claw and pull out the head light dimmer switch assy. ...
© 2011-2019 Copyright www.tcorolla.net