Toyota Corolla Repair Manual: Customer problem analysis
Hint
:
in troubleshooting, the problem symptoms must be confirmed accurately, meaning that all preconceptions must be set aside in order to make an accurate judgement. To ascertain what the problem symptoms are, it is extremely important to ask the customer about the problem and conditions when it occurred.
The following 5 items are important points in the problem analysis. Past problems which are thought to be unrelated and the repair history, etc. May also help in some cases. Therefore, as much information as possible should be gathered and its relationship with the problem symptoms should be correctly ascertained for use as reference in troubleshooting. A customer problem analysis table is provided for your use in the diagnostics section for each system.

(Sample) supplemental restraint system check sheet.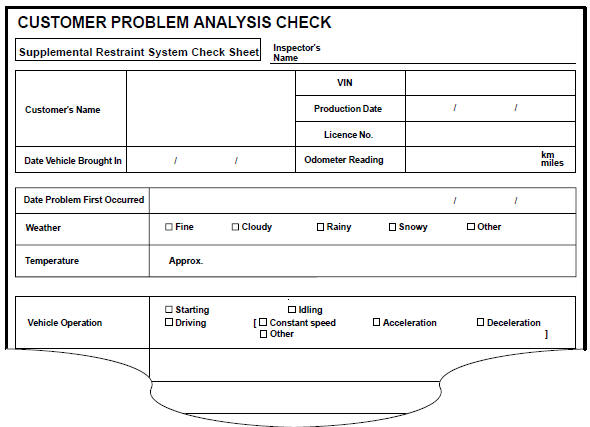 Hint: carry out troubleshooting in accordance with the procedures on the following page. Here, only the basic procedures are shown. Details are provided in the diagnostics section, showing the m ...
Hint: the diagnostic system in corolla has various functions. The first function is the diagnostic trouble code (dtc) check, in which a malfunction in the signal circuits to the ecu is sto ...
Other materials:
Inspection procedure
1 Inspect parking brake switch circuit Check for open and short circuit in parking brake switch circuit 2 Inspect brake fluid level warning switch circuit Check the brake fluid level in reservoir. check for open and shot circuit in brake fluid level warning switch circuit ...
Deleting a registered phone number
1 Select "Delete contacts" using . 2 Select the desired phone number using and press (YES). To delete all of the registered phone numbers, select "All delete" using and press (YES). ...
Radio receiver assy
Replacement Ðint: components: 1. Remove floor shift shift lever knob sub–assy (m/t transaxle) 2. Remove console panel upper 3. Remove heater control knob 4. Remove instrument cluster finish panel 5. Remove instrument cluster finish panel sub–assy center Remove the 4 screws. ...
© 2011-2019 Copyright www.tcorolla.net