Toyota Corolla Repair Manual: Circuit description
This circuit turns on the magnetic clutch inside the actuator during cruise control operation according to the signal from the ecu. If a malfunction occurs in the actuator or speed sensor, etc. During cruise control operation, the rotor shaft between the motor and control plate is released.
When the brake pedal is depressed, the stop lamp switch assy turns on, supplying electrical power to the stop light. Power supply to the magnetic clutch is mechanically cut and the magnetic clutch is turned off.
When driving downhill, if the vehicle speed exceeds the set speed by 8 km/h (5 mph), the ecu turns the safety magnet clutch off. If the vehicle speed later drops to within 5 km/h (3 mph) above the set speed, then cruise control at the set speed is resumed.

Wiring diagram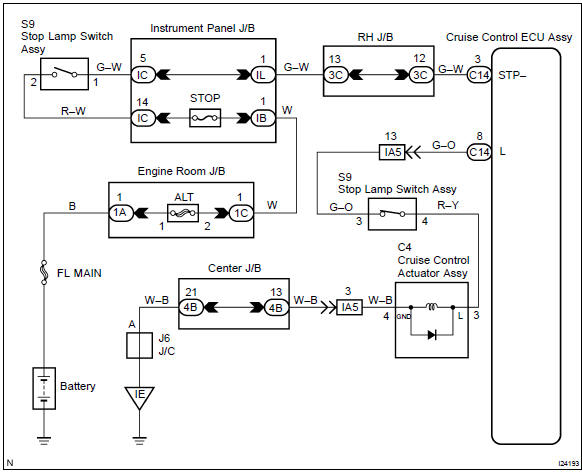 Dtc 12 actuator magnetic clutch circuit ...
1 Inspect fuse(stop) Turn the ignition switch to off. remove the stop fuse from the instrument panel j/b. check continuity of the stop fuse. Ok: continuity 2 Inspect s ...
Other materials:
Monitor description
While the engine is being cranked, the battery positive voltage is applied to terminal sta of the ecm. If the ecm detects the starter control signal (sta) while the vehicle is driving, it will conclude that there is a fault in the starter control circuit. The ecm will turn on the mil and a d ...
What to do if... (Troubleshooting)
If there is a problem with the hands-free system or a Bluetooth® device, first check the table below. ► When using the hands-free system with a Bluetooth® device ► When registering/connecting a cellular phone ► When making/receiving a call ► When using the pho ...
Fuel information
You must only use unleaded gasoline in your vehicle. Select octane rating 87 (Research Octane Number 91) or higher. Use of unleaded gasoline with an octane rating lower than 87 may result in engine knocking. Persistent knocking can lead to engine damage. At minimum, the gasoline you use should ...
© 2011-2019 Copyright www.tcorolla.net