Toyota Corolla Repair Manual: Brake fluid
Bleeding
Notice
: wash the brake fluid off immediately if it comes into contact with any painted surface. Hint
: if any work is done on the brake system or if air in the brake lines is suspected, bleed the air from the system.
1. Fill reservoir with brake fluid fluid: sae j1703 or fmvss no. 116 Dot3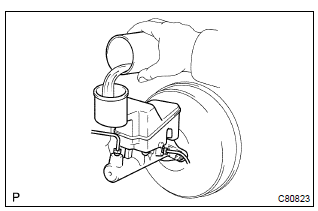 2. Bleed master cylinder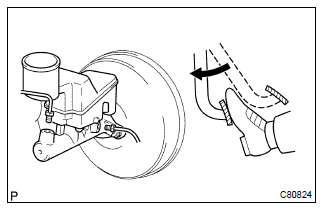 Hint
: if the master cylinder has been disassembled or if the reservoir becomes empty, bleed the air from the master cylinder.
disconnect the brake lines from the master cylinder.

Sst 09023–00100

slowly depress the brake pedal and hold it.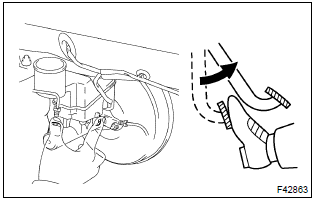 Block off the outer holes with your fingers, and release the brake pedal.
repeat (b) and (c) 3 or 4 times.
3. Bleed brake line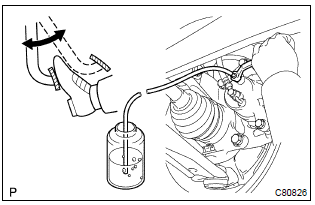 Connect the vinyl tube to the brake caliper.
depress the brake pedal several times, then loosen the bleeder plug with the pedal held down.
at the point when fluid stops coming out, tighten the bleeder plug, then release the brake pedal.

Torque: 8.3 Nvm (85 Kgf·cm, 74 in.Vlbf)

repeat (b) and (c) until all the air in the fluid has been bled out.
Repeat the above procedures to bleed the air out of the brake line for each wheel.
4. Check fluid level in reservoir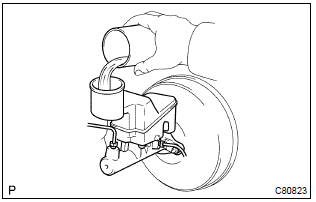 Check the fluid level and add fluid if necessary.

Fluid: sae j1703 or fmvss no. 116 Dot3
Use the table below to help you find the cause of the problem. The numbers indicate the probability of the cause of the problem. Check each part in order. If necessary, replace these parts. ...
Other materials:
How to proceed with troubleshooting
1 Vehicle brought to workshop 2 Customer problem analysis 3 Check and clear dtc 4 Problem symptom confirmation Symptom does not occur (go to step 5) 5 Symptom simulation 6 Dtc check 7 Dtc chart 8 Problem symptoms table 9 Circuit inspection 10 Confirmation test End ...
System description
The ecm uses signals from the vehicle speed sensor and crankshaft position sensor to detect the actual gear position (1st, 2nd, 3rd or o/d gear). Then the ecm compares the actual gear with the shift schedule in the ecm memory to detect the mechanical trouble of the shift solenoid valves, th ...
Cd sound skips
Inspection procedure 1 Disc cleaning Disk cleaning ) if the disk gets dirty, clean the disk by wiping the surface from the center to outside in the radial directions with a soft cloth. Notice: do not use a conventional record cleaner or anti–static preservative. Standard: m ...
© 2011-2021 Copyright www.tcorolla.net