Toyota Corolla Repair Manual: Brake fluid
Bleeding
Notice
: wash the brake fluid off immediately if it comes into contact with any painted surface. Hint
: if any work is done on the brake system or if air in the brake lines is suspected, bleed the air from the system.
1. Fill reservoir with brake fluid fluid: sae j1703 or fmvss no. 116 Dot3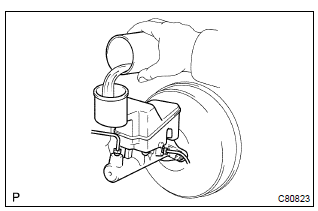 2. Bleed master cylinder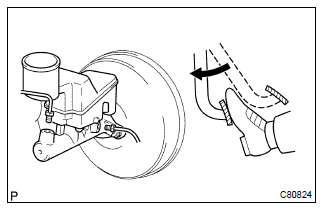 Hint
: if the master cylinder has been disassembled or if the reservoir becomes empty, bleed the air from the master cylinder.
disconnect the brake lines from the master cylinder.

Sst 09023–00100

slowly depress the brake pedal and hold it.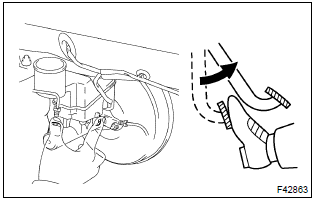 Block off the outer holes with your fingers, and release the brake pedal.
repeat (b) and (c) 3 or 4 times.
3. Bleed brake line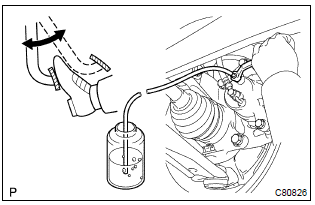 Connect the vinyl tube to the brake caliper.
depress the brake pedal several times, then loosen the bleeder plug with the pedal held down.
at the point when fluid stops coming out, tighten the bleeder plug, then release the brake pedal.

Torque: 8.3 Nvm (85 Kgf·cm, 74 in.Vlbf)

repeat (b) and (c) until all the air in the fluid has been bled out.
Repeat the above procedures to bleed the air out of the brake line for each wheel.
4. Check fluid level in reservoir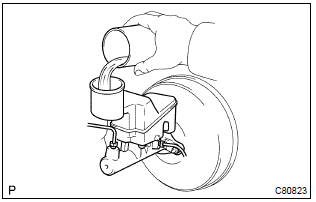 Check the fluid level and add fluid if necessary.

Fluid: sae j1703 or fmvss no. 116 Dot3
Use the table below to help you find the cause of the problem. The numbers indicate the probability of the cause of the problem. Check each part in order. If necessary, replace these parts. ...
Other materials:
Exhaust gas precautions
Harmful substance to the human body is included in exhaust gases if inhaled. CAUTION Exhaust gases include harmful carbon monoxide (CO), which is colorless and odorless. Observe the following precautions. Failure to do so may cause exhaust gases enter the vehicle and may lead to an accident c ...
Coolant
Replacement 1. Drain coolant Caution: to avoid the danger of being burned, do not remove the radiator cap while the engine and radiator are still hot, as fluid and steam can be blown out under pressure. remove the radiator cap. loosen the radiator and engine drain plugs, a ...
Inspection procedure
1 Check door lock When the door does not operate manually, proceed to "a". when the door does not operate via the key, proceed to "b". 2 Inspect door lock control switch W/ power window: remove the power window regulator master switch assy. Inspect the master ...
© 2011-2020 Copyright www.tcorolla.net