Toyota Corolla Owners Manual: Lubrication system

*: The engine oil capacity is a reference quantity to be used when changing the engine oil. Warm up and turn off the engine, wait more than 5 minutes, and check the oil level on the dipstick.
■ Engine oil selection
"Toyota Genuine Motor Oil" is used in your Toyota vehicle. Use Toyota approved "Toyota Genuine Motor Oil" or equivalent to satisfy the following grade and viscosity.
Oil grade: ILSAC GF-5 multigrade engine oil
Recommended viscosity: SAE 0W-20
SAE 0W-20 is the best choice for good fuel economy and good starting in cold weather.
If SAE 0W-20 is not available, SAE 5W-20 oil may be used. However, it must be replaced with SAE 0W- 20 at the next oil change.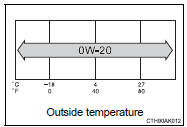 Oil viscosity (0W-20 is explained here as an example):
• The 0W in 0W-20 indicates the characteristic of the oil which allows cold startability. Oils with a lower value before the W allow for easier starting of the engine in cold weather.
• The 20 in 0W-20 indicates the viscosity characteristic of the oil when the oil is at high temperature. An oil with a higher viscosity (one with a higher value) may be better suited if the vehicle is operated at high speeds, or under extreme load conditions.
How to read oil container label The International Lubricant Specification Advisory Committee (ILSAC) Certification Mark is added to some oil containers to help you select the oil you should use.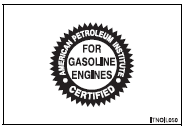 Cooling system

Ignition system

NOTICE
■Iridium-tipped spark plugs
Use only iridium-tipped spark plugs. Do not adjust spark plug gap.
Electrical system

Manual transaxle

NOTICE
■Manual transmission gear oil
Please be aware that depending on the particular characteristics of the gear oil used or the operating conditions, idle sound, shift feeling and/or fuel efficiency may be different or affected. Toyota recommends to use "TOYOTA Genuine Manual Transmission Gear Oil LV" to achieve optimal performance.
Automatic transaxle

NOTICE
■Automatic transmission fluid type
Using automatic transmission fluid other than "Toyota Genuine ATF WS" may cause deterioration in shift quality, locking up of your transmission accompanied by vibration, and ultimately damage the transmission of your vehicle.
Continuously variable transaxle

*: The fluid capacity is a reference quantity.
If replacement is necessary, contact your Toyota dealer.
NOTICE
■Continuously variable transaxle fluid type
Using continuously variable transaxle fluid other than "Toyota Genuine CVTF FE" may cause deterioration in shift quality, locking up of the transmission accompanied by vibration and, ultimately, damage to the vehicle's transmission.
Clutch

Brakes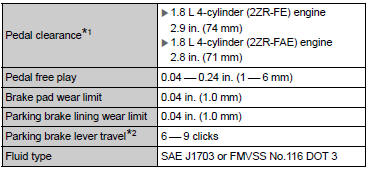 *1: Minimum pedal clearance when depressed with a force of 66 lbf (294 N, 30 kgf) while the engine is running *2: Parking brake lever travel when pulled up with a force of 44 lbf (200 N, 20 kgf)
Steering

Tires and wheels
► Type A

► Type B

► Type C

Light bulbs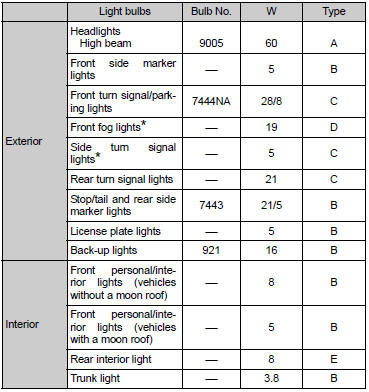 A: HB3 halogen bulbs
C: Wedge base bulbs (amber) E: Double end bulbs
B: Wedge base bulbs (clear) D: H16 halogen bulbs
*: If equipped

You must only use unleaded gasoline in your vehicle. Select octane rating 87 (Research Octane Number 91) or higher. Use of unleaded gasoline with an octane rating lower than 87 may result in engine ...
Other materials:
Electronic control
Removal and installation of battery terminal before performing electrical work, disconnect the battery negative (–) terminal cable beforehand so as to prevent burnt–out damage by short. When disconnecting and installing the terminal cable, turn the ignition switch and li ...
Cruise control
Preparation Sst Recomended tools Equipment ...
Parking brake
Operating instructions 1 To set the parking brake, fully pull the parking brake lever while depressing the brake pedal. 2 To release the parking brake, slightly raise the lever and lower it completely while pressing the button. *1: For U.S.A. *2: For Canada ■Parking brake engaged wa ...
© 2011-2019 Copyright www.tcorolla.net