Toyota Corolla Repair Manual: Coolant
Replacement
1. Drain coolant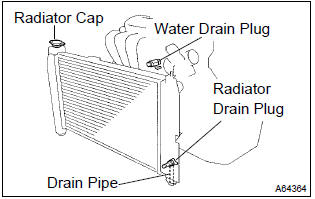 Caution
: to avoid the danger of being burned, do not remove the radiator cap while the engine and radiator are still hot, as fluid and steam can be blown out under pressure.
remove the radiator cap.
loosen the radiator and engine drain plugs, and drain the coolant.
close the drain plugs.

Torque: 13 nvm (130 Kgf·cm, 9 ft·lbf) for engine
2. Add coolant
Slowly fill the system with coolant.
Hint
:
use of improper coolants may damage engine cooling system.
Use "toyota long life coolant" or equivalent and mix it with plain water according to the manufacturer's directions.
Using of coolant with includes more than 50 % (freezing protection down to –35 c (–31 f) or 60 % (freezing protection down to –50 c (–58 f)) of ethylene–glycol is recommended but not more than 70 %.
Notice
:
3. Check engine coolant leak
fill the radiator with coolant and attach a radiator cap tester.
pump it to 118 kpa and check leakage.
1. Cooling fan relay Inspect the cooling fan relay continuity. Using an ohmmeter, check that there is continuity between terminals 1 and 2. If there is no continuity, replace t ...
Other materials:
Circuit description
A thermistor is built in the engine coolant temperature sensor and changes the resistance value according to the engine coolant temperature. The structure of the sensor and connection to the ecm is the same as those of the intake air temperature sensor. Hint: if the ecm detects the dtc ...
Driving tips
Winter driving tips Carry out the necessary preparations and inspections before driving the vehicle in winter. Always drive the vehicle in a manner appropriate to the prevailing weather conditions. Preparation for winter ● Use fluids that are appropriate to the prevailing outside temper ...
Evap monitor (vacuum pressure monitor)
Notice: a cold soak must be performed prior to conducting the drive pattern to complete the internal pressure readiness monitor. Cold soak preconditions The monitor will not run unless: mil is off. Fuel level is approximately 1/2 to 3/4. Altitude is 7800 feet (2400 m) or less. ...
© 2011-2019 Copyright www.tcorolla.net