Toyota Corolla Repair Manual: Coolant
Replacement
1. Drain coolant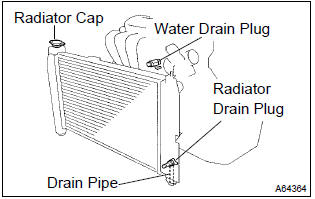 Caution
: to avoid the danger of being burned, do not remove the radiator cap while the engine and radiator are still hot, as fluid and steam can be blown out under pressure.
remove the radiator cap.
loosen the radiator and engine drain plugs, and drain the coolant.
close the drain plugs.

Torque: 13 nvm (130 Kgf·cm, 9 ft·lbf) for engine
2. Add coolant
Slowly fill the system with coolant.
Hint
:
use of improper coolants may damage engine cooling system.
Use "toyota long life coolant" or equivalent and mix it with plain water according to the manufacturer's directions.
Using of coolant with includes more than 50 % (freezing protection down to –35 c (–31 f) or 60 % (freezing protection down to –50 c (–58 f)) of ethylene–glycol is recommended but not more than 70 %.
Notice
:
3. Check engine coolant leak
fill the radiator with coolant and attach a radiator cap tester.
pump it to 118 kpa and check leakage.
1. Cooling fan relay Inspect the cooling fan relay continuity. Using an ohmmeter, check that there is continuity between terminals 1 and 2. If there is no continuity, replace t ...
Other materials:
On–vehicle inspection
1. Inspect air–fuel ratio compensation system Hint: you can also check the system by choosing "data monitor", then "o2 sensor output voltage" on the monitor of the hand–held tester. Connect the hand–held tester to the terminal 23 (ox1a) @ 7 (e1) and 21 (ox1b) @ 7 (e1) of the ecm. Cau ...
Steering wheel audio switches
Some audio features can be controlled using the switches on the steering wheel. Operation may differ depending on the type of multimedia system or navigation system. For details, refer to the manual provided with the multimedia system or navigation system. Operating the multimedia system using ...
Diagnostic trouble code chart
Notice: when removing the part, turn the ignition switch to off. Hint: using sst 09843–18040, it connect the terminal tc and cg of dlc3. If any abnormality is not found when inspecting parts, inspect the ecu and ground points for poor contact. If a malfunction code is displayed during t ...
© 2011-2019 Copyright www.tcorolla.net