Toyota Corolla Repair Manual: Coolant
Replacement
1. Drain coolant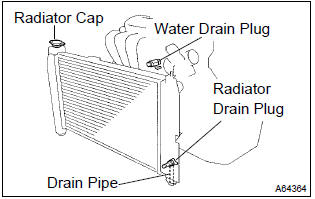 Caution
: to avoid the danger of being burned, do not remove the radiator cap while the engine and radiator are still hot, as fluid and steam can be blown out under pressure.
remove the radiator cap.
loosen the radiator and engine drain plugs, and drain the coolant.
close the drain plugs.

Torque: 13 nvm (130 Kgf·cm, 9 ft·lbf) for engine
2. Add coolant
Slowly fill the system with coolant.
Hint
:
use of improper coolants may damage engine cooling system.
Use "toyota long life coolant" or equivalent and mix it with plain water according to the manufacturer's directions.
Using of coolant with includes more than 50 % (freezing protection down to –35 c (–31 f) or 60 % (freezing protection down to –50 c (–58 f)) of ethylene–glycol is recommended but not more than 70 %.
Notice
:
3. Check engine coolant leak
fill the radiator with coolant and attach a radiator cap tester.
pump it to 118 kpa and check leakage.
1. Cooling fan relay Inspect the cooling fan relay continuity. Using an ohmmeter, check that there is continuity between terminals 1 and 2. If there is no continuity, replace t ...
Other materials:
Overhaul
1. Remove w/head taper screw plug no.2 Using a socket hexagon wench 10, remove the taper screw plug and gasket. 2. Remove valve lifter Remove the valve lifters from the cylinder head. 3. Remove valve Place the cylinder head on wooden blocks. using sst, compres ...
Toyota vehicle intrusion protection system
On–vehicle inspection 1. Outline of toyota vehicle intrusion protection (tvip) system Hint: the theft deterrent system has 2 modes; one is the active mode that is an initially set mode and another is the passive mode that can be switched on/off by the specified method (see step 4). &nbsp ...
Inspection procedure
1 Check operation(overdrive) Drive the vehicle after the engine warms up. check that overdrive on e off occurs by an operation of the o/d switch on–off. 2 Inspect terminal voltage(od) Remove the cruise control ecu assy with the connector still connected. turn ...
© 2011-2020 Copyright www.tcorolla.net