Toyota Corolla Repair Manual: Coolant
Replacement
1. Drain coolant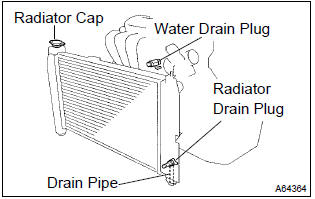 Caution
: to avoid the danger of being burned, do not remove the radiator cap while the engine and radiator are still hot, as fluid and steam can be blown out under pressure.
remove the radiator cap.
loosen the radiator and engine drain plugs, and drain the coolant.
close the drain plugs.

Torque: 13 nvm (130 Kgf·cm, 9 ft·lbf) for engine
2. Add coolant
Slowly fill the system with coolant.
Hint
:
use of improper coolants may damage engine cooling system.
Use "toyota long life coolant" or equivalent and mix it with plain water according to the manufacturer's directions.
Using of coolant with includes more than 50 % (freezing protection down to –35 c (–31 f) or 60 % (freezing protection down to –50 c (–58 f)) of ethylene–glycol is recommended but not more than 70 %.
Notice
:
3. Check engine coolant leak
fill the radiator with coolant and attach a radiator cap tester.
pump it to 118 kpa and check leakage.
1. Cooling fan relay Inspect the cooling fan relay continuity. Using an ohmmeter, check that there is continuity between terminals 1 and 2. If there is no continuity, replace t ...
Other materials:
Initialization
Select "Initialize" using . ● Initializing the sound settings Select "Sound setting" using and press (YES). For details about sound settings: ● Initializing the device information Select "Car Device Info" using and press (YES). Automatic connection of a portable device, the ...
Preparations to use wireless communication
The following can be performed using Bluetooth® wireless communication: ■ A portable audio player can be operated and listened to via multimedia system ■ Hands-free phone calls can be made via a cellular phone In order to use wireless communication, register and connect a Bluetooth® ...
Circuit description
When the brake pedal is depressed, the stop lamp switch assy sends a signal to the cruise control ecu assy. When the cruise control ecu assy receives this signal, it cancels the cruise control. A fail–safe function is provided so that cancel functions normally, even if there is a malfunc ...
© 2011-2021 Copyright www.tcorolla.net