Toyota Corolla Owners Manual: Checking and replacing fuses
If any of the electrical components do not operate, a fuse may have blown. If this happens, check and replace the fuses as necessary.
1 Turn the engine switch off.
2 Open the fuse box cover.
► Engine compartment Push the tab in and lift the lid off.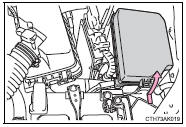 ► Under the driver's side instrument panel Remove the lid.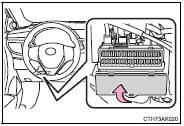 3 Remove the fuse with the pullout tool.
Only type A fuses can be removed using the pullout tool.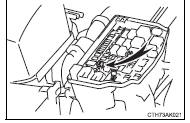 4 Check if the fuse is blown.
1 Normal fuse
2 Blown fuse
Replace the blown fuse with a new fuse of an appropriate amperage rating.
The amperage rating can be found on the fuse box lid.
► Type A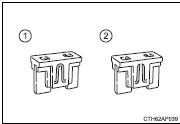 ► Type B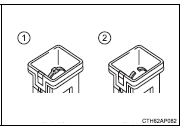 ► Type C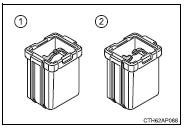 ■After a fuse is replaced
●If the lights do not turn on even after the fuse has been replaced, a bulb may need replacement.
●If the replaced fuse blows again, have the vehicle inspected by your Toyota dealer.
■If there is an overload in a circuit
The fuses are designed to blow, protecting the wiring harness from damage.
CAUTION
■To prevent system breakdowns and vehicle fire
Observe the following precautions.
Failure to do so may cause damage to the vehicle, and possibly a fire or injury.
●Never use a fuse of a higher amperage rating than that indicated, or use any other object in place of a fuse.
●Always use a genuine Toyota fuse or equivalent.
Never replace a fuse with a wire, even as a temporary fix.
●Do not modify the fuses or fuse boxes.
NOTICE
■Before replacing fuses
Have the cause of electrical overload determined and repaired by your Toyota dealer as soon as possible.
Replace the battery with a new one if it is depleted. You will need the following items: ● Flathead screwdriver ● Small flathead screwdriver ● Lithium battery CR2016 (vehicles wi ...
You may replace the following bulbs yourself. The difficulty level of replacement varies depending on the bulb. If necessary bulb replacement seems difficult to perform, contact your Toyota dealer ...
Other materials:
Body panel undercoating areas
Apply pastar uwe or pastar uc to the chassis, floor underside, sheet metal fitting weld points of the body, and inside of the wheel house to prevent rust and noise, as well as protect the body from flying rocks. Hint: work must be performed while wearing the appropriate protective ...
Maintenance requirements
To ensure safe and economical driving, day-to-day care and regular maintenance are essential. It is the owner's responsibility to perform regular checks. Toyota recommends the following maintenance: General maintenance General maintenance should be performed on a daily basis. This can be done ...
Inspection
1. Inspect defogger relay (marking: def) Remove the defogger relay from the instrument panel j/b. inspect the defogger relay. Standard: If the result is not as specified, replace the relay ...
© 2011-2018 Copyright www.tcorolla.net