Toyota Corolla Body Repair Manual: Body panel undercoating areas
Apply pastar uwe or pastar uc to the chassis, floor underside, sheet metal fitting weld points of the body, and inside of the wheel house to prevent rust and noise, as well as protect the body from flying rocks.
Hint:
work must be performed while wearing the appropriate protective gear and in a well-ventilated area.
Apply degreasing agent to a clean cloth and clean any dirt and oil from the application areas.
Cover the surrounding areas of the application areas with masking paper to avoid coating unnecessary areas.
Do not coat high temperature areas, such as the tailpipe, or moving parts, such as the driveshaft.
Do not leave any gaps between the panel joints.
Apply sealer to the panel joints in advance.
Hint:
parts coated using the pastar uwe should be left until dry to the touch in a 25 c environment for 60 to 75 minutes. Parts coated using pastar uc should be left until dry to the touch in a 25 c environment for 15 to 30 minutes.
If using a pastar gun, one spray applies a 0.5 Mm thick coating.
Pastar uwe: part number v9240-0025 pastar uc: spray type :part number v9240-0008
aerosol type: part number v9240-0021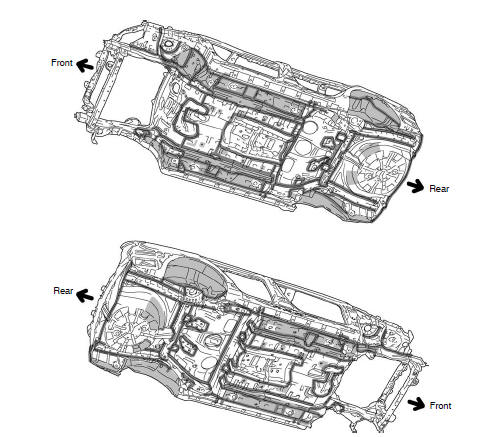 Reference
Tthe undercoating should be applied according to the specifications for your country while referring to the notes above.
Be sure to apply body sealer to the body panel joints and door edges (tip of outer panel folded part), etc., To waterproof and rustproof them. Hint: apply degreasing agent to a clean c ...
If an increase in temperature or other condition damages the foamed material when repairing or replacing the panel, fill in the insufficient areas with urethane foam. The following illustration s ...
Other materials:
How to proceed with troubleshooting
1 Vehicle brought in 2 Customer problem analysis check and symptom check 3 Problem symptoms table Without applicable symptoms, proceed to "a" with applicable symptoms, proceed to "b" 4 Perform troubleshooting in the following method, depending on malfunction symptom Ter ...
Timing gear cover oil seal
Replacement 1. Remove engine under cover rh 2. Remove front wheel rh 3. Remove fan and generator v belt Turn the v–ribbed belt tensioner slowly clockwise and loosen it. Then, remove the fan and generator belt v and put back the v–ribbed belt tensioner little by little and fix it qui ...
Aluminum wheel precautions (if equipped)
● Use only Toyota wheel nuts and wrenches designed for use with your aluminum wheels. ● When rotating, repairing or changing your tires, check that the wheel nuts are still tight after driving 1000 miles (1600 km). ● Be careful not to damage the aluminum wheels when using tir ...
© 2011-2020 Copyright www.tcorolla.net