Toyota Corolla Body Repair Manual: Body panel undercoating areas
Apply pastar uwe or pastar uc to the chassis, floor underside, sheet metal fitting weld points of the body, and inside of the wheel house to prevent rust and noise, as well as protect the body from flying rocks.
Hint:
work must be performed while wearing the appropriate protective gear and in a well-ventilated area.
Apply degreasing agent to a clean cloth and clean any dirt and oil from the application areas.
Cover the surrounding areas of the application areas with masking paper to avoid coating unnecessary areas.
Do not coat high temperature areas, such as the tailpipe, or moving parts, such as the driveshaft.
Do not leave any gaps between the panel joints.
Apply sealer to the panel joints in advance.
Hint:
parts coated using the pastar uwe should be left until dry to the touch in a 25 c environment for 60 to 75 minutes. Parts coated using pastar uc should be left until dry to the touch in a 25 c environment for 15 to 30 minutes.
If using a pastar gun, one spray applies a 0.5 Mm thick coating.
Pastar uwe: part number v9240-0025 pastar uc: spray type :part number v9240-0008
aerosol type: part number v9240-0021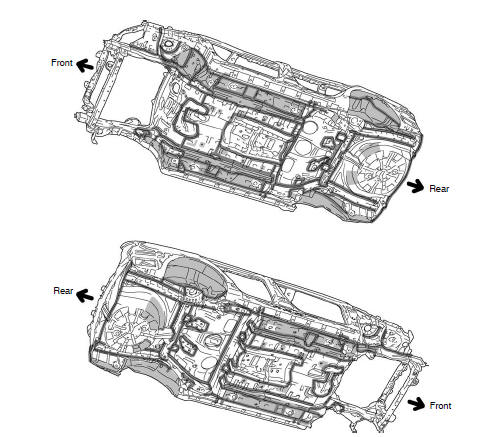 Reference
Tthe undercoating should be applied according to the specifications for your country while referring to the notes above.
Be sure to apply body sealer to the body panel joints and door edges (tip of outer panel folded part), etc., To waterproof and rustproof them. Hint: apply degreasing agent to a clean c ...
If an increase in temperature or other condition damages the foamed material when repairing or replacing the panel, fill in the insufficient areas with urethane foam. The following illustration s ...
Other materials:
Evap monitor (vacuum pressure monitor) (continued)
Preconditions The monitor will not run unless: mil is off. Fuel level is approximately 1/2 to 3/4. Altitude is 7800 feet (2400 m) or less.* Engine coolant temperature (ect) is between 40°f and 95°f (4.4 °C and 35 °C). Intake air temperature (iat) is between 40°f and 95 °f (4 ...
Lubrication system
*: The engine oil capacity is a reference quantity to be used when changing the engine oil. Warm up and turn off the engine, wait more than 5 minutes, and check the oil level on the dipstick. ■ Engine oil selection "Toyota Genuine Motor Oil" is used in your Toyota vehicle. Use Toyota a ...
Overhaul
Hint: component: 1. Discharge refrigerant from refrigeration system sst 07110–58060 (07117–58080, 07117–58090, 07117–78050, 07117–88060, 07117–88070, 07117–88080) 2. Disconnect cooler refrigerant suction hose no.1 Install sst to piping clamp. Sst 09870–00015 Hint: confirm the d ...
© 2011-2020 Copyright www.tcorolla.net