Toyota Corolla Owners Manual: Audio system types
► Without Multimedia system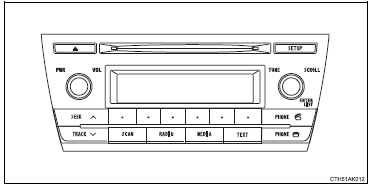 ► With Multimedia system ► With navigation system Owners of models equipped with a navigation system should refer to the "Navigation System Owner's Manual".
■Using cellular phones
Interference may be heard through the audio system's speakers if a cellular phone is being used inside or close to the vehicle while the audio system is operating.
■About Bluetooth®
The Bluetooth wordmark and logo are owned by Bluetooth SIG. and permission has been granted to use the trademark of the licensee Panasonic Corporation. Other trademarks and trade names are owned by various different owners.
CAUTION
■U.S.A.
FCC ID: ACJ932PTA184
NOTE:
This device complies with Part 15 of the FCC Rules.
Operation is subject to the following two conditions:
(1) this device may not cause harmful interference and (2) this device must accept any interference received, including interference that may cause undesired operation.
FCC WARNING:
Changes or modifications in construction not expressly approved by the party responsible for compliance could void the user's authority to operate the equipment.
Radio frequency exposure. This device is approved for Mobile Application only and, to comply with applicable FCC radio frequency exposure regulations, must be used with a distance of at least 7.9 in. (20 cm) between the antenna and the body of any person at all time during use.
■U.S.A. and Canada
●Part 15 of the FCC Rules FCC Warning:
Any unauthorized changes or modifications to this equipment will void the user's authority to operate this device.
■Canada

IC: 216J-PTA184
NOTE:
This device complies with Industry Canada license-exempt RSS standard( s). Operation is subject to the following two conditions:
(1) this device may not cause interference, and (2) this device must accept any interference, including interference that may cause undesired operation of the device.
Le présent appareil est conforme aux CNR d'Industrie Canada applicables aux appareils radio exempts de licence. L'exploitation est autorisée aux deux conditions suivantes :
(1) l'appareil ne doit pas produire de brouillage, et (2) l'utilisateur de l'appareil doit accepter tout brouillage radioélectrique subi, même si le brouillage est susceptible d'en compromettre le fonctionnement.
This radio transmitter (identify the device by certification number, or model number if Category II) has been approved by Industry Canada to operate with the antenna types listed below with the maximum permissible gain and required antenna impedance for each antenna type indicated. Antenna types not included in this list, having a gain greater than the maximum gain indicated for that type, are strictly prohibited for use with this device.
Le présent émetteur radio (identifier le dispositif par son numéro de certification ou son numéro de modèle s'il fait partie du matériel de catégorie I) a été approuvé par Industrie Canada pour fonctionner avec les types d'antenne énumérés ci-dessous et ayant un gain admissible maximal et l'impédance requise pour chaque type d'antenne. Les types d'antenne non inclus dans cette liste, ou dont le gain est supérieur au gain maximal indiqué, sont strictement interdits pour l'exploitation de l'émetteur.
■LASER PRODUCTS
●Do not take this unit apart or attempt to make any changes yourself.
This is an intricate unit that uses a laser pickup to retrieve information from the surface of compact discs.
The laser is carefully shielded so that its rays remain inside the cabinet.
Therefore, never try to disassemble the player or alter any of its parts since you may be exposed to laser rays and dangerous voltages.
●This product utilizes a laser.
Use of controls or adjustments or performance of procedures other than those specified herein may result in hazardous radiation exposure.
NOTICE
■To prevent battery discharge
Do not leave the audio system on longer than necessary when the engine is off.
■To avoid damaging the audio system
Take care not to spill drinks or other fluids on the audio system.
Some audio features can be controlled using the switches on the steering wheel. Operation may differ depending on the type of audio system or navigation system. For details, refer to the manual pro ...
Other materials:
Outer rear view mirror assy lh
Replacement Hint: installation is according to the reverse order of the removal. In the rh side, work in the same procedure as in the lh side. 1. Remove front armrest assy lh 2. Remove power window regulator master switch assy (w/ power window) 3. Remove front armrest base panel upper ...
Tire & wheel
Wheel and tire system Inspection 1. Inspect tire check the tires for wear and proper inflation pressure. Cold tire inflation pressure: Using a dial indicator, check the tire runout. Tire runout: 3.0 Mm (0.118 In.) Or less 2. Rotate tire Hint: see the illustration ...
Inspection procedure
Hint: start the inspection from step 1 in case of using the hand–held tester and start from step 2 in case of not using the hand–held tester. 1 Read value of hand–held tester(front speed sensor) Select the datalist mode on the hand–held tester. check that there is no difference betw ...
© 2011-2019 Copyright www.tcorolla.net