Toyota Corolla Repair Manual: Front no.2 Speaker assy
Replacement
H
int
: components:
1. Remove front armrest assy lh
2. Remove power window regulator master switch assy (w/ power window)
3. Remove front armrest base panel upper lh (w/o power window)
4. Remove front door window regulator handle assy (w/o power window)
5. Remove front door lower frame bracket garnish lh
6. Remove front door trim board sub–assy lh
7. Remove front no.2 Speaker assy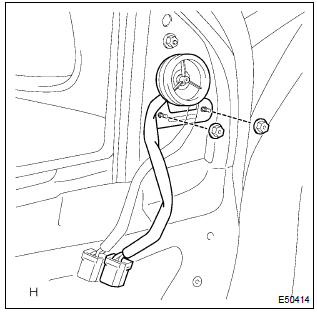 Open the part of service hole cover, then disconnect the connector.
remove the 2 nuts and front no. 2 Speaker assy.
8. Install front door window regulator handle assy (w/o power window)