Toyota Corolla Repair Manual: Adjustment
1. Inspect and adjust clutch pedal sub–assy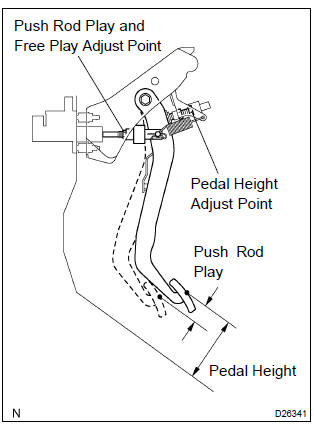 Turn over the floor carpet.
check that the pedal height is correct.

Pedal height from asphalt sheet: 135.8 – 145.8 Mm (5.346 – 5.740 In.)

adjust the pedal height.
Loosen the lock nut and turn the stopper bolt until the height is correct. Tighten the lock nut.

Torque: 24.5 Nvm (245 Kgf·cm, 18 ft·lbf)
check that the pedal free play and push rod play are correct.
Depress the pedal until the clutch resistance begin to be felt.

Pedal free play: 5.0 – 15.0 Mm (0.197 – 0591 In.)

Gently depress the pedal until the resistance begins to increase a little.

Push rod play at pedal top: 1.0 – 5.0 Mm (0.039 – 0.197 In.)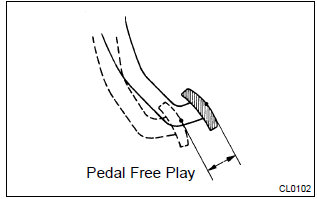 Adjust the pedal free play and push rod play.
Loosen the lock nut and turn the push rod until the free play and push rod play are correct.
Tighten the lock nut.
After adjusting the pedal free play, check the pedal height.
Connect the air duct and install the lower finish panel.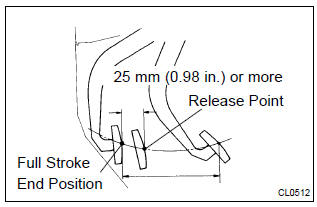 Check the clutch release point.
Pull the parking brake lever and install wheel stopper.
Start the engine and idle the engine.
Without depressing the clutch pedal, slowly shift the shift lever into reverse position until the gears contact.
Gradually depress the clutch pedal and measure the stroke distance from the point that the gear noise stops (release point) up to the full stroke end position.
Standard distance: 25 mm (0.98 In.) Or more (from pedal stroke end position to release point) if the distance is not as specified, perform the following operations.
Check pedal height.
Check push rod play and pedal free play.
Bleed the clutch line.
Check the clutch cover assy and disc assy.
Other materials:
Heater & air conditioner
Service data Torque specification Supplemental restraint system Torque specification Seat belt Torque specification Wiper & washer Torque specification Audio & visual system Torque specification Instrument panel/meter Torque specification Seat Torque sp ...
Transmitter battery
Replacement 1. Replace transmitter battery Notice: special caution should be taken for handling each component as they are precision electronic components. Using a screwdriver, pry out the transmitter case. Notice: do not forcibly pry out the case. Hint: tape the screwdriver tip ...
Installing child restraints using a seat belt
■ Rear-facing - Infant seat/convertible seat 1 Place the child restraint system on the rear seat facing the rear of the vehicle. 2 Run the seat belt through the child restraint system and insert the plate into the buckle. Make sure that the belt is not twisted. 3 Fully extend the shou ...
© 2011-2019 Copyright www.tcorolla.net