Toyota Corolla Repair Manual: Adjustment
1. Inspect and adjust clutch pedal sub–assy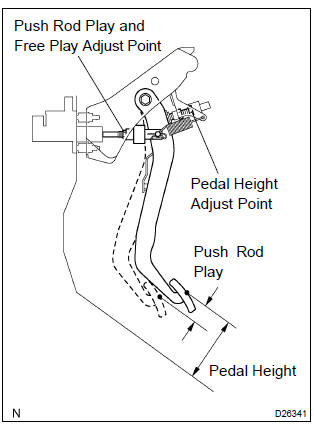 Turn over the floor carpet.
check that the pedal height is correct.

Pedal height from asphalt sheet: 135.8 – 145.8 Mm (5.346 – 5.740 In.)

adjust the pedal height.
Loosen the lock nut and turn the stopper bolt until the height is correct. Tighten the lock nut.

Torque: 24.5 Nvm (245 Kgf·cm, 18 ft·lbf)
check that the pedal free play and push rod play are correct.
Depress the pedal until the clutch resistance begin to be felt.

Pedal free play: 5.0 – 15.0 Mm (0.197 – 0591 In.)

Gently depress the pedal until the resistance begins to increase a little.

Push rod play at pedal top: 1.0 – 5.0 Mm (0.039 – 0.197 In.)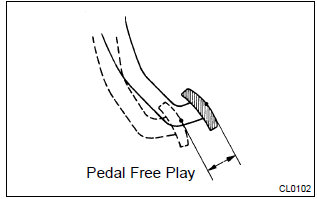 Adjust the pedal free play and push rod play.
Loosen the lock nut and turn the push rod until the free play and push rod play are correct.
Tighten the lock nut.
After adjusting the pedal free play, check the pedal height.
Connect the air duct and install the lower finish panel.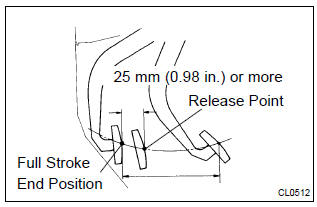 Check the clutch release point.
Pull the parking brake lever and install wheel stopper.
Start the engine and idle the engine.
Without depressing the clutch pedal, slowly shift the shift lever into reverse position until the gears contact.
Gradually depress the clutch pedal and measure the stroke distance from the point that the gear noise stops (release point) up to the full stroke end position.
Standard distance: 25 mm (0.98 In.) Or more (from pedal stroke end position to release point) if the distance is not as specified, perform the following operations.
Check pedal height.
Check push rod play and pedal free play.
Bleed the clutch line.
Check the clutch cover assy and disc assy.
Other materials:
Dialing from the contacts list
You can dial a number from the contact data imported from your cellular phone. The system has one contact for each registered phone. Up to 2500 contacts may be stored in each contact. 1 Display the phone screen. 2 Select "Contacts" tab. 3 Choose the desired contact to call from the list. 4 C ...
Timing gear cover oil seal
Replacement 1. Remove engine under cover rh 2. Remove front wheel rh 3. Remove fan and generator v belt Turn the v–ribbed belt tensioner slowly clockwise and loosen it. Then, remove the fan and generator belt v and put back the v–ribbed belt tensioner little by little and fix it qui ...
Light control switch circuit
Wiring diagram Inspection procedure 1 Check headlamp dimmer switch assy (light control switch) 2 Check wire harness (tvip ecu light control switch) Disconnect the tvip ecu and light control switch connectors. check the continuity between the terminals of the tvip e ...
© 2011-2020 Copyright www.tcorolla.net