Toyota Corolla Repair Manual: Check and replace ecu
Notice
: start an inspection of the connector from the backside of the connector on the wire harness side with the connector connected to the ecu.
When no measurement condition is specified, perform the inspection with the engine stopped and also the ignition switch on.
First check the ecu ground circuit. If it is faulty, repair it.

If it is normal, the ecu could be faulty. In this case, replace the ecu with one that functions normally and check if the symptoms appear.
Measure the resistance between the ecu ground terminal and body ground.

Resistance: 1 Ω or less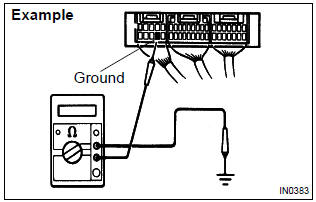 Disconnect the ecu connector, check the ground terminals on the ecu side and wire harness side for bends and check the contact pressure.